Meet our Team
Office of Alumni & Parent Relations

Craig Swinyard '98
Director of Alumni & Parent Relations
Contact Craig about general engagement with the University of Portland Office of Alumni Relations.

Fun Fact: Craig is also a math professor at UP and has a life goal of running a marathon in every state.
Anna M. Horlacher '12
Associate Director, Affinity Engagement
Contact Anna about Portland-area alumni events, Reunion, the GOLD Program, and affinity chapters.
Fun fact: Anna is married to a UP alum, is a classically trained vocalist, and started skiing when she was 3 years old!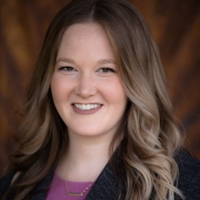 Katie Seccombe
Associate Director, Parent Engagement
Contact Katie about anything related to our University of Portland parents.

Fun Fact: Katie is originally from Southern California and enjoys taking dance classes in her free time.

Chris Humphrey
Associate Director, Regional Engagement
Contact Chris about getting involved in our regional chapters!
Fun Fact: Chris is married to a UP alum, has two wonderful children, enjoys barbequing with friends, and is a big NBA fan.

Sarah Kuenzi
Program Manager of Marketing
Contact Sarah about marketing, email communications, the Alumni website, and our online platforms.

Fun Fact: In her free time, Sarah enjoys helping her family with their local vineyard and playing music around the Portland area.

Evan Falkenthal
Prospect Data Researcher
Contact Evan about data management and analytics.
Fun Fact: Evan is a published poet!
Nancy Nofziger
Administrative Assistant
Contact Nancy with questions about opportunities for students, Survival Kits, and updating your contact information.

Fun Fact: In the last 5 years, Nancy has traveled to Austria, Italy, Netherlands, France, Germany, Switzerland, England, Scotland, Wales, Israel, and Palestine–having never been out of the country before that! Her upcoming trips include Ireland, Liverpool, and Rouen, France. 
Bill Reed '72
Outreach and Hospitality Specialist
Contact Bill about getting involved with Reunion 2020 as a class representative.
Fun Fact: Bill once had lunch with Joe DiMaggio!

Jalen Hall
Graduate Intern
Fun Fact: Jalen spent his past summer in Uganda, where he saw a family of 7 lions and had a standoff with an elephant during a safari.