Servant Leadership Team Members 2018-2019
Taylor Agelson, '19
Who is your spiritual role model and why?
My spiritual role model is my grandma. She is the most faithfully steadfast person I know and has taught me how to live like Jesus my whole life. She has been put through a lot and never waivers from her faith in God during the hard times which is so admirable. 
How might others grow in faith?
If someone came to me wondering how to grow in their faith, I would first say to find out where they currently are and what they are looking for. I would then tell them about all the different things that have helped me grow in my own faith, and suggest looking into all the great UP campus ministry programs. Mostly I would be there to listen and offer any advice or answers for them. 
I scream, you scream, we should all scream for...?
Gold medal ribbon from Baskin Robins! I never say no to ice cream outings or gifts :)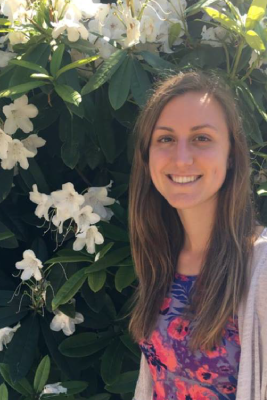 Annie Voegele, '19
How do you pray?
I am a very active person, so I often pray while running in Forest Park, hiking in the Gorge, or biking into downtown.  When I open my heart to God while doing something physical, I have found that I am better focused and my mind wanders less than when I am sitting. In these moments, I usually encounter people in need of prayers or am in awe of the beautifully created world and then add these intentions into my prayer.  I definitely experience God both in the created world and through people and I think that God opens my eyes to see the little seemingly meaningless moments as something to rejoice in.
Who is your spiritual role model?
My spiritual role model is Mother Teresa.  Her simple optimism and way of caring for everyone no matter who they are is striking.  I strive to embrace her humility and trust of God into my own life.
What is your favourite ice cream flavor?
 I like to be adventurous when it comes to ice cream so I never get the same flavor!  My current favorite is Roasted Beets and Humboldt Fog from Salt & Straw!  The ice cream is made with sweet beets, creamy goat cheese gelato, candied walnuts, and a punchy swirl of apple jam.  It's amazing even if it doesn't sound like it!
 Amanda Hernandez-Michalski, '20
Why did you choose your major?
"Well, I like math a lot so I figured I would learn more."
Who is your spiritual role model and why?
Pope Francis is my homie(in my dreams) because of his inclusiveness and genuine love for humanity.
If someone came to you wondering how to grow in their faith, what would you suggest? 
If somebody had questions about finding faith I would ask them what brings them the most joy/everlasting happiness. There is one true source of God and that is God Himself. I would also include somewhere in that conversation that God comes in different forms and channels to every person, so no one person has the same relationship of faith . Perfection is not being flawless, but being one with the spirit.
Diana Salgado Huicochea, '20
How do you like to pray?
The real question is: Is there even a way that I do not like praying! The answer is no, of course. Yet, I absolutely adore praying in the early hours of the morning when the noisy world is quiet and still. I like to think that as I read scripture I am preparing the world for everyone to wake up in God's love, then I transition to having my daily conversation with God (which is like any other conversation you would have with your best friend). This way of praying has been constant in my life ever since I can remember (the scripture piece, however, came about when I could read and I owned a bible to read of).  
Who is your spiritual role model and why?
My spiritual role model is the famous Beth Barsotti. Beth was one of the first people I met my freshman year from Campus Ministry. I had scheduled an informational meeting with Beth to talk about a pilgrimage flyer I saw hanging in Buckley Center. From that one sitting in her office, I gained more than pilgrimage information. Beth somehow managed to show me the real presence of God as I talked to her. She reminded me of how much work God has done in my life and continues to show me unconditionally. She taught me to experience God with all my senses. I want to grow up and be like Beth Barsotti, a person who can teach others the infinite love of God. The pure essence of God.  
What is your favorite ice cream flavor?
My favorite ice cream flavor is nutty coconut from Baskin-Robbins!
Grace Dorn, '21
More information coming soon!