Joining the Catholic Church (RCIA)
Yes, you can become Catholic! 
You can also just learn more about what the Church teaches and what initiation into the Church might look like for you.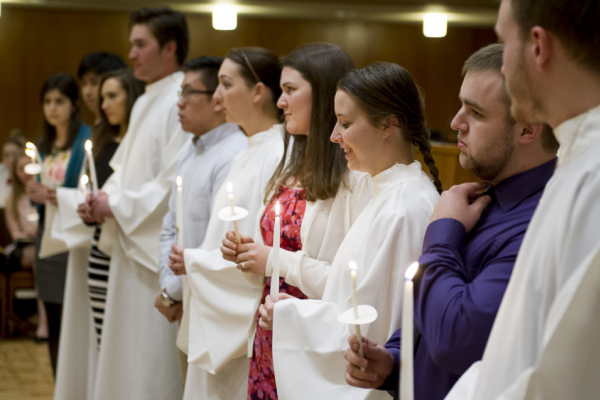 We run our own Rite of Christian Initiation of Adults (RCIA) program for current students. This program helps participants discern whether God is calling them to join the Church through the Sacraments of Baptism, Confirmation, and Eucharist. Through prayer, community, teaching, and rituals, the goal of the RCIA is to facilitate an encounter with the Living God.
RCIA meets on Sunday afternoons in the Chapel of Christ the Teacher during the school year. Everyone is welcome, especially in the Fall semester. Students who decide to become Catholic can expect to receive the sacraments at the Easter Vigil, which occurs the night before Easter Sunday.
Students who have been baptized in another Christian tradition will not be baptized again but will have the opportunity to make a public profession of faith at the Easter Vigil and receive the Sacraments of Confirmation and Eucharist.
If you have ever thought about becoming Catholic or would simply like to learn more, please contact Alex Roth at rotha@up.edu or 503.943.7863.