Musical Leadership in the World of Business & Innovation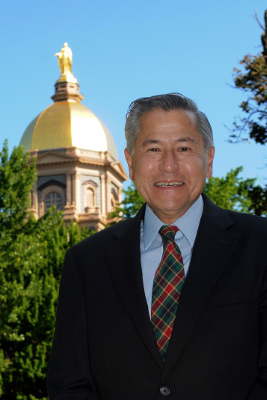 Annual Hesburgh Lecture
presented by Kenneth Dye, EdD
Tuesday, April 2, 2019 at 7:15pm
Franz Hall 120
Free and open to all
Kenneth Dye, Director of Bands and Professor of Music at the University of Notre Dame, will examine the extraordinary correlation between music and leadership in the experience of executives, military generals, conductors, and coaches. He will explore the inspirational attributes of leaders from Knute Rockne to Leonard Bernstein to reveal the remarkable extent to which their leadership is inspired by music, and show how orchestrating harmonious teamwork generates a synergistic power of "team" that transcends individual talent.

As a composer/arranger for the Sydney 2000 Olympic Band and choreographer for the 1984 Los Angeles Olympics, Dye's experiences have produced over 1,900 musical works and shows performed throughout the U.S. and overseas. While conducting at Notre Dame, the Band has performed concerts in the Sydney Opera House, Beijing Concert Hall, and Carnegie Hall as well as toured Europe, Asia, and Brazil. His research for the courses "The Business of Music," "Music and the Olympics" and "The History of Bands" has discovered inspiring stories in the cross-disciplinary character of music and human achievement.

This event is co-sponsored by the Garaventa Center and the Notre Dame Club of Portland. For ADA accommodations or further information, please contact the Garaventa Center at: 503-943-7702 or garaventa@up.edu.