Vocations
As men who have found joy in following Christ as religious priests and brothers, we welcome inquiry from anyone who is considering a similar call. 
Those who would like to speak with a Holy Cross religious in Portland are welcome to contact Fr. Jim Gallagher, CSC, gallaghe@up.edu.
For deeper consideration of what it might look like to enter formation with the Congregation of Holy Cross, one can contact the Holy Cross Office of Vocations at www.holycrossvocations.org.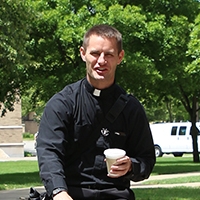 Brendan Ryan, Holy Cross Seminarian, Assistant Director of Villa Maria Hall at the University of Portland
"I am thrilled to be back in the setting where I first got to know Holy Cross priests: an undergraduate dorm. As an undergrad, I got to know great men by praying with them at dorm mass, but also seeking them out for counsel and witnessing the joy with which they live their lives."