Meet Our Mentors
UP BRIDGE hires one student organizer to help run and support the UP Connections Program. Their job is to help with administrative tasks, daily functions, planning, and evaluation of the program. 
Keep checking back to see who our 2022-2023 Lead Student Organizer will be!
UP BRIDGE hires mentors to help guide and support incoming first year students at the University of Portland. They are matched based on the incoming student's preference, such as out of state status, first generation, ethnic identity, etc. 
Meet our UP BRIDGE Mentors for 2022-2023!
Sophie Arcangel (she/her) - Class of 2025
Computer Science, minor in English
"Being a UP BRIDGE Mentor means being there for my community. It's about making everyone feel welcome and ready to tackle whatever comes next; leading and learning with kindness and respect. "
Karel Farfan (she/her) - Class of 2025
Organizational Communications, minor in Spanish
"Being a UP BRIDGE mentor is very special to me. It is an opportunity for me to apply all my past experiences in a way that will be beneficial to someone else. I am excited to have a group that will be able to get to know each other and hopefully make long-lasting friendships/connections. "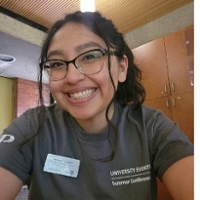 Vanessa Gonzalez (she/her) - Class of 2023
Sociology (Criminology Track), Psychology and Spanish minors
"To me, being a UP BRIDGE mentor means providing a safe, fun, and inclusive space for incoming students to feel like they can truly be themselves here at UP. Moreover, being a UP BRIDGE mentor means making sure students feel seen, heard, and valued. Additionally, as a mentor, I strive to ensure students feel supported and encouraged to ask questions, build relationships with other students, and ask for help whenever they need it. "
Lien Hoa Nguyen (she/her) - Class of 2025
Social Work
"Well, hello there! I'm Lien Hoa, the girl in that photo. To me, being a UP BRIDGE mentor simply means that I get to be there for you. That's literally it. My job (it's crazy to believe, I know, but I actually get PAID) to just - support you. - In your journey at UP - In your journey through current life. - In your college questions, doubts, fears, and what-if's. It's really that simple. You are my job description, in the best way possible. I'm here... for you! So, whoever you are, I'm excited to meet you! Hang in there, little sprout! You're doing greatly already! Love, Lien Hoa <3 P.S. If you're still worried, I extra extra promise that you're not being a burden to me. I don't get paid enough to do this for any reason, other than the fact that I wanna make sure you're okay. So don't worry. Reach out anytime. For whatever you need. And I'll be here. "