Meet the Language Assistants
French
Emma Bauer
Bonjour tout le monde! My name is Emma and I am one of your French language assistants! I study French as well as secondary education with the dream of teaching French in America or English in France. Ever since I started learning French six years ago, I have fallen in love with it and hope to share that with others. I had the amazing opportunity to live in Nantes, France, last semester and improved my French to better help all of you!
Aside from French, I love trying new recipes, doing puzzles, exploring my hometown of Portland, enjoying time with my big family, and making any kind of craft. I look forward to meeting all of you and discovering your quirks as well!
Jessica Busek
Coucou! My name is Jessica/Jesse and I am so delighted to be one of your French language assistants. I am an English and French studies major with a minor in social justice and I plan on teaching English in France, or maybe going to graduate school to study linguistics/ TESOL after graduating from UP.
I'm originally from the Big Island of Hawai'i and my interests include linguistics, books, coffee, hiking, vegetables, traveling, talking to people, and sad indie music. I am très heureuse to be a French language assistant here, so please don't hesitate to say salut! and ask for help/ bavarder un peu with me any time.
Spanish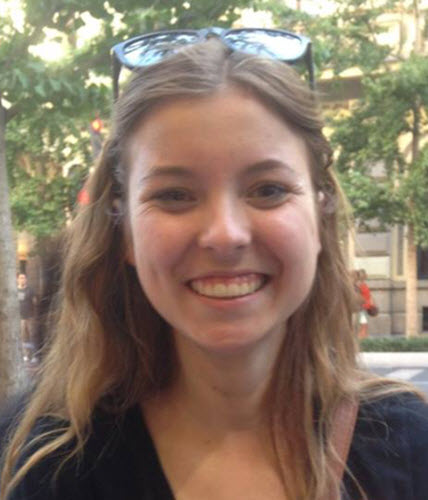 Maddie Lobdell
Hola! ¿Que tal? My name is Maddie and I am a Spanish language assistant! I study math as well as spanish. I studied abroad in Granada, Spain, for a semester, and I'm hoping I can use that experience as well as my previous five years of formal learning of the language to help you learn and love it as I do. I learned so much by speaking Spanish all the time over there.
Outside of math and Spanish, I like to do puzzles, hang out with my friends, and play outside or explore. I also like to relax and watch movies or
Grey's Anatomy
on gloomy days.
