Service Plunge
Tuesday, August 21 - Thursday, August 23, 2018 
The Service Plunge provides an opportunity for first-year and transfer students to spend their first days as a University of Portland student volunteering with local service agencies. Students will meet new people, work hard, and immerse themselves in their new Portland community.
>>> We're Now Accepting Applications! go live on Monday, June 11, 2018 at 9:00 AM. CLICK THIS LINK TO APPLY!  <<<
(Note: Applications are on the new Engage UP platform. Incoming students will need to log in with their University of Portland email and password.)
Service Plunge participation fee: $80
Registration will be available to 120 participants on a first come, first served basis
Registration will be open until the end of June or until the program is filled, whichever comes first.  This is a very popular program. Apply early.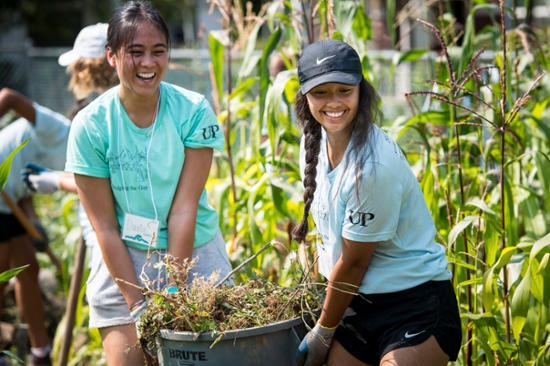 STUDENT COORDINATORS (Beginning July 2018): Kelley McCaffery & Jumel Villacarlos
Email: servplunge@up.edu / Phone (Moreau Center): 503-943-7132
SERVICE PLUNGE ADVISOR: Tshombé Brown (email) or phone: 503-943-8195
- - -
Looking for other Pre-Orientation Program Opportunities? Check out . . .
UP Connections>>>
UP Connections is a peer-mentorship program designed to support first generation, multicultural, out of state, LGBTQA+, underrepresented, students of color adjust to their first year in college all are welcome to participate.
Note: UP Connections happens at the same time as Service Plunge, and is limited to 50 students.
First UP>>>
Each summer, incoming first generation (FGEN) students are invited to the University of Portland campus for an overnight orientation program on the UP campus – a "summer launch." Incoming students will hear insights from current FGEN students, faculty, and staff.
Note: First generation students who want to participate in Service Plunge may do so. They happen at differnt times, so there is no conflict.
Since they occur at the same time, if you are participating in A/AFROTC, the Honors Colloquium, or International Student Orientation, you may not also attend Service Plunge.
- - -
Important Details for Participants:
The Service Plunge begins with check-in on Tuesday, August 21, 2018 at 10 a.m. The Plunge will end around Noon on Thursday, August 23, 2018, at which time students will be able to settle into their residence hall rooms and enjoy Orientation Weekend.*
Simplicity and solidarity are key values of the Moreau Center and are lived out on the Plunge. Participants will not be staying on campus during the Service Plunge. Participants will be sleeping on a concrete gym floor, eating simple meals, and working hard for the community.
Showers will only be available on Wednesday, and privacy and personal space will be very limited. The upside: students will get to experience and serve the North Portland community while getting to know their fellow classmates very well!
Some possible volunteer activities include sorting clothes at a shelter, landscaping, painting, and cleaning. Because we are coordinating service placements for a large number of students, students will not know their specific volunteer assignments until the Plunge begins.
Special Needs: Please contact us with any special dietary needs or ADA accommodations necessary to allow for full participation in this event.