Pilot Speak
Now that you are officially a Pilot, you'll need to know the campus lingo. Here are some words and phrases that every new Pilot should know!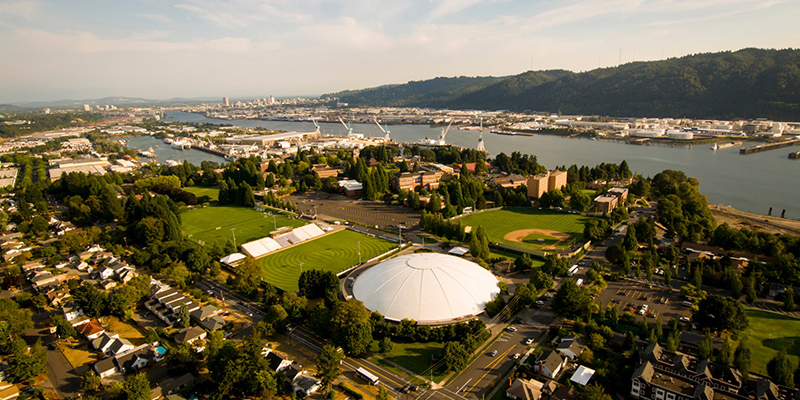 *Some University of Portland events might be on hiatus for 2020-2021 due to COVID-19 related restrictions. 
The Anchor
A coffeehouse-style study space in Haggerty Hall.
Anchors Away* 
A big BBQ with live music and lots of activities hosted by the Campus Program Board on the last day of finals week in the spring semester. The entire UP community (faculty, staff, and students) joins together to celebrate the successes of the year.
ASUP
Associated Students of the University of Portland, the student government. There are positions on the student senate for all students — elections will be held early in the first semester. More info about ASUP can be found at sites.up.edu/asup
BC
Buckley Center. Contains many classrooms, campus departments, and faculty offices.
BC Aud
 Buckley Center Auditorium. Adjacent to BC, this is one of the largest classroom at UP and is often used for films, events, and lectures.
The Beacon 
UP's award-winning student-run news source. You can find it at upbeacon.com
The Bluff
 A nickname for UP, referring to the geographical feature upon which the campus is built: a bluff overlooking the Willamette River.
CAS 
College of Arts and Sciences, home to all academic programs in the sciences, liberal arts, and social sciences.
The Commons
Bauccio Commons is the main on-campus dining hall.

CPB 
Campus Program Board is a major branch of ASUP. This student organization is dedicated to bringing social and cultural events to campus. Interested in helping plan fun events? Learn more on the UP CPB Instagram page.
C.S.C. 
Congregatio a Sancta Cruce, known in English as the Congregation of Holy Cross. The Congregation of Holy Cross is the religious order of priests and brothers that has served the University since it was founded in 1901. Also known simply as "Holy Cross."
Diversity Dialogues
Diversity Dialogues is programming designed to engage and educate the student body on issues, topics, and events that relate to diversity, equity, and inclusion.
DOD*
Dance of the Decades is a large spring semester dance where everybody dresses up in a costume from their favorite decade!
Encounter*
At the Encounter with Christ retreat, students explore their relationships with God, and the opportunity to build community with people across majors and academic years. Check the Campus Ministry website for information about Encounter retreats. 
Engage
Students use Engage to find clubs and organizations, attend events, and record memberships and activities.
EspressoUP* 
A weekly Wednesday night program from 6:30 to 9:30 p.m. in St. Mary's Lounge. You can enjoy free espresso drinks, Italian sodas, and the occasional music performance.
Founders Day
Founders Day, an annual University event, is held on a Tuesday in April. On Founders Day, classes are cancelled so seniors can share their capstone projects and thesis presentations to the University community. 
HD/AHD 
Hall Director/Assistant Hall Director. One part-time graduate student and one full-time staff member who live in each residence hall are available to help you in any way needed.
Immersions
Immersions are a valuable way to learn from and immerse yourself in diverse communities. These experiences, offered through the Moreau Center for Service and Justice, give students a close-up view of populations and socioeconomic issues in Oregon, Washington, other parts of the United States, and other countries.
KDUP
The student-run internet radio station. All students are welcome to sign up to host a show. Tune in at kdup.up.edu
The Log 
The University's annual yearbook, which comes out early in the fall every year and is compiled and edited by students. More info can be found on The Log website. 
Moodle
UP uses the Moodle Learning Management System for technology assisted face-to-face, hybrid, and online courses. Moodle gives class groups a secure and robust online environment for files and documents, delivery of online instructional media, digital submission of student work, forum discussions, online quizzes, and more. 
Padre
The nickname for Schoenfeldt Hall, named for Fr. Art "Padre" Schoenfeldt, C.S.C.
Pilots After Dark*
Pilots After Dark is a late-night programming series held nearly every Friday and Saturday night. Events include live music from student and local artists, as well as interactive programs like monthly trivia nights, karaoke, and open mic. Pilots After Dark events are free and open to all students. Stay up-to-date with the schedule at facebook.com/pilotsafterdark
The Pilot House
On-campus dining facility which features a coffee bar, pub-style food, fireplace, couches, and more for relaxing and studying. Commonly referred to as P-House.
Pilot Pride
To be a Pilot leader, you must be:
Resilient, Courageous, Reflective, Prudent, Motivational, Empathic, Purposefully Engaged
P-Plant
Physical Plant. Our amazing campus maintenance team.
P-Safe
Campus Safety. Our campus security (which recently changed its name from Public Safety to Campus Safety) is open 24 hours a day, 7 days a week.
Quad
A grassy, open area near a group of buildings. The grass near Shipstad and Kenna is called the Eastside Quad, while the grass between Franz Hall and the Chapel is the Academic Quad.
RA
 Resident Assistant. Student leaders who are available to assist students with any issues they may have with life in the residence halls.
Rock the Bluff 
An annual major concert held in the Chiles (pronounced "Chī-els") Center every spring. Previous concerts have included Bleachers, DNCE, and Macklemore. Rock The Bluff is sponsored by the Campus Program Board.
ROTC
Pronounced "Rot-see." Reserve Officers Training Corps, a program in which students are trained to become officers in the military upon graduation. At UP, we have Army ROTC (AROTC) and Air Force ROTC (AFROTC).
Teams
Microsoft Teams is available to all staff, faculty and students for hosting online meetings and video conference calls.
Wally Pilot
The University of Portland Pilots mascot. Wally is a river boat pilot who has been cheering for the Pilots since 1935.
WCC
West Coast Conference. The Portland Pilots compete in the NCAA Division 1 West Coast Conference (WCC) with the BYU Cougars, Gonzaga Bulldogs, Loyola Marymount Lions, Pacific Tigers, Pepperdine Wave, Saint Mary's Gaels, San Diego Toreros, San Francisco Dons, and the Santa Clara Broncos.
Workshop Group
 A group of students who share a seminar-style workshop class together during orientation and their first semester at UP.