Portland Speak
Now that you've learned all about "Pilot Speak," here are some words and phrases you'll need to know about the great city of Portland before you officially call it home. Be sure to check out our Oregon Pronunciation Guide and these maps of Portland to get a feel for the "City of Roses."
University of Portland Land Acknowledgement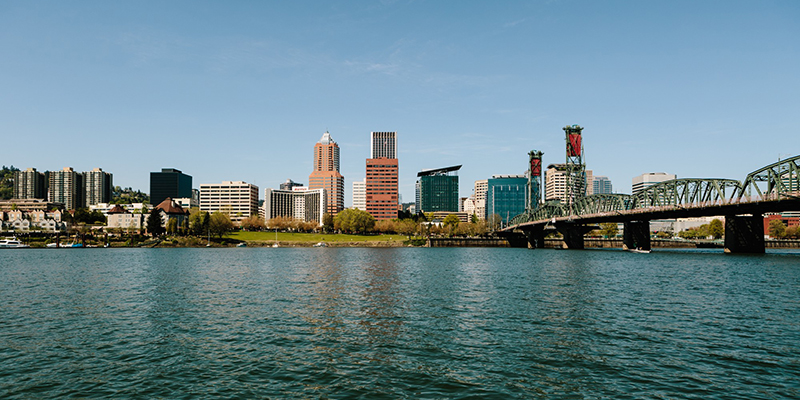 *Due to COVID-19 related restrictions, some Portland-area events may be canceled and businesses may have different operating hours.
23rd
NW 23rd Avenue is lined with shops and restaurants, and is close to Washington Park. Together with NW 21st Avenue, it is the main street in the Nob Hill neighborhood. (15 minutes from campus.)
Alberta 
NE Alberta Street is the heart of the Alberta Arts district and has several art galleries, shops, and restaurants.  On the last Thursday of every month from June to August, Alberta hosts a festival called Last Thursday for creatives, artists, musicians, and street performers. Last Thursday has been canceled for 2020 due to COVID-19. (15 minutes from campus.)
The Coast 
It's not the beach or the shore… true Oregonians call it the coast! Globally renowned for its rugged beauty, the Oregon Coast offers everything from sandy beaches and quaint towns to world-class hiking, camping, and surfing. Temps at the coast can really fluctuate, so if you go, be sure to bring a jacket! (90 minutes from campus.)
Couch Street
Pronounced "kootch" street. Named for Captain John Heard Couch, a sea captain and an early settler and co-founder of Portland, Couch Street runs east to west through Portland. 
Division
Located in SE Portland, Division Street is home to some of Portland's most famous restaurants. (20 minutes from campus.)
Downtown 
Downtown Portland is located on the west bank of the Willamette River, in SW Portland. It is home to some of Portland's main cultural destinations (the Portland Art Museum, the Arlene Schnitzer Concert Hall, the Keller Auditorium) as well as countless restaurants, bars, clubs, and shops. (20 minutes from campus.)
Farmers Market 
Portland hosts weekly farmers markets all over the city, where you can purchase farm-fresh produce and artisanal food items. The closest to UP's campus is the St. Johns Farmers Market, which is just over 2 miles from campus at N Charleston Ave & N Central Street.
Forest Park 
One of the largest city parks in the country, Forest Park is visible across the Willamette River from campus and offers more than 70 miles of hiking and jogging trails. (15 minutes from campus.)
Glisan Street
Pronounced "gleeson" by most Portlanders, Glisan Street is named for Dr. Rodney Glisan (who actually pronounced his name "glissan"), a prominent medical doctor who lived in Portland in the 19th century.
The Gorge
 The Columbia River Gorge is home to countless waterfalls, breath-taking views, and world-class hiking trails. Popular spots include Multnomah Falls and Dog Mountain. (30–45 minutes from campus.)
Hawthorne 
SE Hawthorne Boulevard is one of the streets that helps keep Portland weird. Located in the heart of SE Portland, Hawthorne is known for its counter-culture shops. (20 min from campus.)
Liquid Sunshine
When it rains in the Pacific Northwest, but it is still sunny outside.
The MAX 
The MAX (Metropolitan Area Express) is Portland's lightrail system and connects downtown Portland with Beaverton, Clackamas, Gresham, Hillsboro, North/Northeast Portland, Southeast Portland, Milwaukie, and Portland International Airport. The closest MAX stop to campus is at the intersection of N. Interstate and N. Rosa Parks. (10 minutes from campus.)
McMenamin's 
McMenamin's is a chain of restaurants, brewpubs, music venues, historic hotels, and movie theaters. Famous for their eccentrically restored historic buildings (such as the St. John's Pub and the Kennedy School), McMenamin's locations can be found in nearly every Portland neighborhood.
Mississippi and Williams 
N. Mississippi Avenue and N. Williams Avenue are parallel streets about a half mile apart that feature a long stretch of shops, restaurants, music venues, and bars. Located in the heart of a Portland's historically African American community, the area has a rich and complex cultural past. Learn more from the King neighborhood association. (10 minutes from campus.)
Moda Center 
Primary indoor arena in N/NE Portland. Home of the NBA's Portland Trail Blazers, the Moda Center also hosts the WHL's Portland Winterhawks games as well as concerts and events throughout the year. (15 minutes from campus.)
NoPo 
Nickname for North Portland, the area of Portland where UP is located.
PDX 
Portland International Airport, rated the country's best airport several times. PDX is also a nickname for the city of Portland. (20 minutes from campus.)
The Pearl 
One of Portland's poshest neighborhoods, the Pearl District (located just north of downtown in NW Portland) offers a wide variety of galleries, restaurants, and shops, including the famous Powell's Books. On the first Thursday of every month, the Pearl District hosts a district-wide celebration where art galleries and businesses stay open late to debut new exhibitions with free food and wine. First Thursday events may be canceled in 2020 due to COVID-19. (15 minutes from campus.)
Pioneer Courthouse Square 
Affectionately known as "Portland's Living Room," Pioneer Courthouse Square is located in downtown Portland and hosts a wide variety of events, including the annual Christmas tree lighting.
Portland Saturday Market 
Portland Saturday Market is a large outdoor arts and crafts market located in downtown Portland. It takes place every Saturday and Sunday from March until Christmas.
Providence Park
Outdoor sports venue in SW Portland. Home of MLS's Portland Timbers and NWSL's Portland Thorns. (15 minutes from campus).
Rip City 
What fans of the NBA's Portland Trail Blazers call Portland.
Rose City 
The official nickname for Portland, sometimes also worded as "City of Roses."
Rose Quarter 
The Rose Quarter is located near downtown in N/NE Portland, and is home to the Moda Center (where the Portland Trailblazers play) and the Veteran's Memorial Coliseum. It is also one of the city's main public transportation hubs.
Soccer City USA 
A nickname for Portland, due to the city's world-famous support for the Portland Timbers, the Portland Thorns, and — of course! — the Portland Pilots.
St. Johns 
The neighborhood northwest of the University, with many shops, restaurants, and the famous St. Johns Bridge and Cathedral Park. (5 minutes from campus.)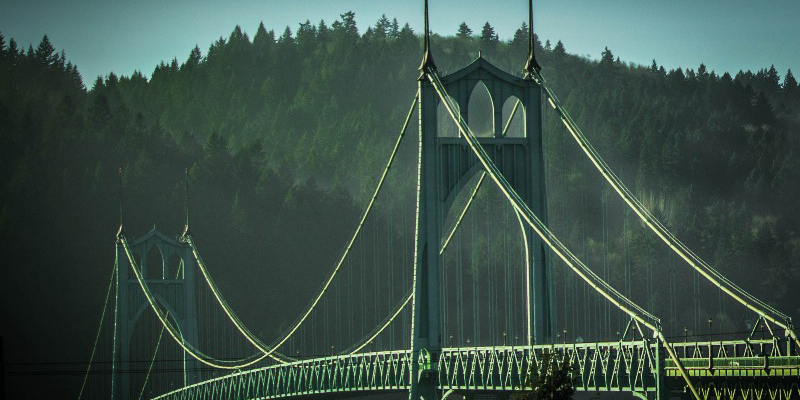 The Streetcar 
The Portland Streetcar is a public transportation option that services areas surrounding downtown Portland, including NW 23rd, the South Waterfront, and the Central Eastside.
Stumptown
 A common nickname for Portland. The name originated from the many stumps created when Portland first became a city.
Swan Island
 The shipyard and industrial area on the Willamette River that is visible from campus.
TriMet 
TriMet is Portland's public transportation system, including bus and The MAX (light rail). Two bus lines stop next to campus: the #44 and the #35. Both connect to the Rose Quarter and downtown Portland.
Washington Park 
Located just above downtown Portland, Washington Park is home to the Oregon Zoo, the International Rose Test Garden, and the Portland Japanese Garden, among many other attractions. Note that these three popular Portland destinations are planning on re-opening to the public soon with patrons required to wear face masks in indoor spaces. (20 minutes from campus.)
Willamette
Pronounced "Will-AM-it." Named from a Clackamas Native American village, the Willamette River flows through Portland and divides the east and west sides of the city. It's next to the University of Portland campus. The University's address is 5000 N. Willamette Drive.