Pre-Orientation Programs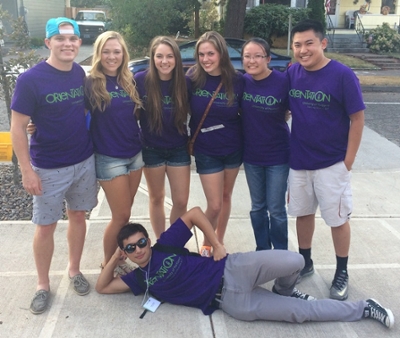 Ohana (August 22 - 23, 2017) focuses on the transitional needs of multicultural students. Led by current University of Portland students and past Ohana participants, the Ohana experience is a time to establish new friendships, learn about University of Portland and the Portland area, discover academic and cultural resources, and relax at a spectacular camp setting.
Service Plunge (August 22 - 24, 2017) is a three day service-learning experience just before Freshman Orientation weekend in August.  You will get to know classmates while working together in small and large groups as you volunteer with local service agencies.  The Service Plunge is a time to have fun, meet new people, work hard, and jump into service in your new community.
Honors Program (August 19 - 24, 2017) is to enhance the intellectual life of the University community by mentoring high achieving and intrinsically motivated students to serve as public intellectuals at the University and beyond. The program fosters in these passionate and gifted students a love for the life of the mind and the desire to enrich their communities. Honors students may be enrolled in any major.
AROTC (August 22 - 23, 2017) The United States Army operates a Military Science & Leadership unit of the Reserve Officers' Training Corps (ROTC) at the University of Portland. The program is a cooperative effort between the Army and the University. It provides prerequisite leadership training qualifications for students desiring to earn appointments as Second Lieutenants in the United States Army, the United States Army Reserve, or the Army National Guard. Army ROTC students pursue a University degree in an academic discipline of their choice and are not members of the U.S. Army, Army Reserve, or National Guard unless they are ROTC scholarship winners.
AFROTC (August 24, 2017) The Air Force ROTC program at the University of Portland is one of the oldest programs on campus. Despite being hosted at a relatively small private school, Detachment 695 is one of the largest detachments for officer production in the country and comprises nearly 10% of the campus student population. For more information on the New Cadet Orientation Program, please email Capt. Bryce Virell at virell@up.edu.
International Student Services (August 22 - 24, 2017) offers special programs to include an orientation program at the beginning of each semester which introduces new students to immigration regulations, the University and its services, to the U.S. system of education, and to the cross-cultural differences they may encounter. Other programs, like a speaker's bureau, International Week, and the Campus Connector Program facilitate cross-cultural learning and exchange.
Leaven (July 23 - 27, 2017) gives each freshman a preview of life at the University of Portland. Students stay in a residence hall, enjoy a variety of activities, explore downtown Portland, engage in service, and pray together. It is a wonderful opportunity to discover the many ways to grow closer to God and team up with the rest of the UP community as we strive to support, nourish, and serve each other in the journey of growing more fully into the Body of Christ.
FGEN (August 2, 2017) our first generation community serves as a resource for all FGEN students and families to ensure a smooth and successful transition from high school to college life and beyond. All students find that they are unfamiliar with some aspects of college processes, language, programs, and resources, often leaving all with unanswered questions. With this web page we would like to reach out and provide information about different programs and events on campus and general campus information that you may be unaware of. The information on this web page is aimed to help with your academic, financial, and social success during your time at UP.