Alaska Adventure and Cultural Trek
The SE Alaskan Adventure
Southeast Alaska is a land rich with history, native culture, exploration and natural beauty. The University of Portland's Outdoor Pursuits team is taking a group of students to explore Southeast Alaska this Summer! The trip includes travel through the Inside Passage with outdoor excursions in Ketchikan, Haines, Skagway and Juneau.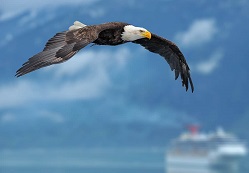 What to Expect
Students will visit controlled wildlife animal refuges, hike a portion of the legendary Helot Trail, visit Native American cultural museums, learn to fish, enjoy beach cookouts and campfires and take in the views of some of Alaska's largest glaciers. The trip is designed with something for everyone with a passion for the great outdoors.  From the outdoor enthusiast to the nature-loving tree hugger to the culturally curious explorer, you will love exploring Alaska with OPP.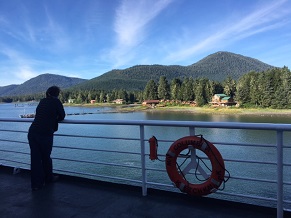 What Travel Will Look Like
Travel, lodging and amenities will change as the trip progresses. Students will experience breathtaking views aboard Alaskan Marine Highway ferries as they cruise through the Inside Passage and they will experience one magical night of sleep under the stars aboard the vessel!  Students will also enjoy rustic cabin camping, communal cooking in well-kept, church-affiliated hostels and stretching out in cozy rented homes with mountain views.
Dates, Cost and What's Included
Trip Dates: Summer 2020
Cost: TBA
Students will gain a greater understanding of navigating the Inside Passage of the great state of Alaska.  They can't help but develop a deep appreciation for Alaska's natural beauty. The Outdoor Pursuits Program staff will teach basic skills and the Program will loan all necessary gear to outfit the group thanks to generous contributions by Columbia Sportswear.
Application and Registration Details
How to Apply
Students must complete and submit all documents within the application packet.  Applications are available at the Outdoor Pursuits Program Office and at the link below once the application process begins.
The applications for the the Summer 2020 SE Alaska Adventure and Cultural Trek are not currently open.  Please check back September 2019 for more information.  
Important Dates and Information
Priority will be given to applications in the order which they are received.  Students must also be in good standing with the Student Conduct Board.  Waitlisted students will be notified by if they are moved from waitlist status.
Participants must meet the Essential Eligibility Criteria (EEC) for participation in the program activity. See Essential Eligibility Criteria Here.
Students who are selected for this trip are required to submit a $500 deposit to the OPP office 
Due to the bookings associated with this trip, we will be unable to give refunds after payment is received.  Of course, extenuating circumstances such as health issues and family emergencies will be given due consideration.  Because of this policy, please consider your schedule carefully and only sign up if you fully intend to take part.
The map below details some of the places we will be traveling on this adventure!  It is not a complete list but it is an awesome way to see just how far out we get to go!  
Questions? E-mail oppmail@up.edu