Academic Peer Mentors
What is Academic Coaching?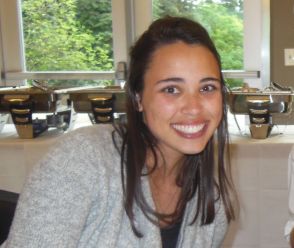 Academic Coaches are sophomore through senior students that get paired with first time freshmen who register for the Academic Coaching program. The academic coach is a facilitator, developing a relationship with their coachee, helping develop skills to solve academic problems, and guiding them in their continued adjustment to the university environment. Coaches will likely be paired with students of the same major or within the same academic school. The purpose of this program is to provide first year students a safe place to discuss academic struggles from the previous semester and work to build better habits both in and outside the classroom.
Meet the Academic Peer Mentor Coordinator
Hi guys! My name is Marissa Quinones and I am from Oakland, CA. I am a senior, Psychology major with a Neuroscience and Fine Arts minor. I have been a Peer Mentor for two years and now, I am excited to be the Coordinator. When I am not running around as a Freshman Workshop Leader or working at the Commons, I love going on hikes, singing, and trying all the classic Portland restaurants. Being the Coordinator is a reward to me, because this program is so meaningful to everyone who is a part of it. This is another way for sophomores, juniors, and seniors to use their experiences at UP to help guide freshmen to being more successful. This program has also built community where both the mentor and the mentee can learn from one another.
Apply for an Academic Coaching Position
Applications for Spring 2019 Academic Coaches will go live October 8th on the Student Job Board! 
Application Timeline:

Applications due - October 31, 2018
Interview Invites sent - November 5, 2018
Offers sent - November 26, 2018
Acceptance due - November 30, 2018