UP Today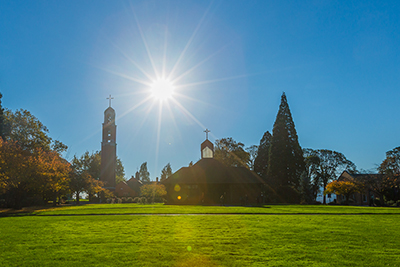 The University of Portland is a thriving community of more than 3,500 undergraduate students, who come from around the nation and the world, as well as over 1,000 faculty and staff. The University is located up on a bluff in a residential neighborhood overlooking the Willamette River and the city of Portland. The school's location also is the inspiration for its nickname, "The Bluff." 
The University is currently led by President Robert D. Kelly, PhD. Since our inception in 1901, the University has been guided by the Congregation of Holy Cross, a Catholic order of priests and brothers. The founder of the order, Blessed Basil Moreau, CSC, said, "The mind will not be cultivated at the expense of the heart." This commitment to educating the hands, heart, and mind are hallmarks of our belief in educating the whole person. 
National Recognition
For 28 consecutive years, the University has earned a top-10 ranking by US News & World Report in the "Regional Universities – West" classification, including the number 1 spot in the 2022 rankings. For nine consecutive years, UP has been the top Oregon school in Kiplinger's Personal Finance annual ranking of best values in private universities. And for three consecutive years, Bloomberg Businessweek has named University of Portland the top school in Oregon for "return on investment" in a state-by-state ranking of schools providing graduates with the most return for the price of their education. 
Academics
University of Portland is Oregon's only comprehensive university with schools of business, education, engineering, nursing, a College of Arts and Sciences, and a graduate school. There are more than 40 undergraduate programs and 30 minors, as well as 18 graduate programs, and more than 1,300 courses. The University features small class settings (11:1 student-faculty ratio) and award-winning faculty. UP was ranked #1 in the nation as top producer of Fulbright U.S. students among master's level institutions.
The University offers a rich resource for the community through educational opportunities, research, and experts, in addition to a host of community offerings such as athletic events, cultural events, speakers and lectures.
Student Life
Believing that education takes place both inside and outside the classroom, the University places a strong emphasis on residential living with more than 90 percent of freshmen living in one of the University's 10 residence halls.
The University's commitment to an education outside the classroom means that UP offers a wide variety of extra-curricular programming including an inclusive Campus Ministry program; local, national, and international volunteer opportunities through the Moreau Center; fitness, intramurals, and outdoor activities through the recreation services program in the Beauchamp Recreation and Wellness Center; and an active student government, Associated Students of the University of Portland. 
Athletics
The Portland Pilots are members of the West Coast Conference and compete at the NCAA Division 1 level. There are sixteen intercollegiate teams: baseball (M), basketball (MW), cross country (MW), rowing (W), soccer (MW), tennis (MW), indoor and outdoor track and field (MW), and indoor and beach volleyball (W). 
Alumni
UP students and alumni are resources for research, internships, and full-time employment. More than half of University of Portland's 37,000 alumni reside in the Portland/Vancouver metropolitan area.