Welcome to Campus Ministry!
Campus Ministry at the University of Portland provides opportunities for all members of the community to grow in awareness of God's presence and God's invitation to communion. For Christians this includes growing in the capacity to know, believe and live out the Good News of Jesus Christ. This flows from our grounding in the Catholic tradition inspired by the charism and spirituality of the Congregation of Holy Cross.
Need prayer? Visit our Prayer Request Page!
To learn about upcoming Campus Ministry opportunities, subscribe to our newsletter.
Campus Ministry Highlights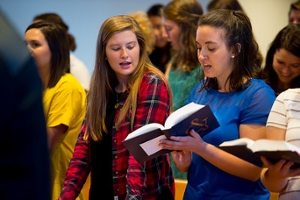 Summer Mass Schedule
Beginning May 12, the summer Mass schedule will be as follows: 
Sunday Mass: 10:30 a.m. in Chapel of Christ the Teacher
Daily Mass: 12:05 p.m. in the Chapel of Christ the Teacher (M-F)
Student Mass: Wednesdays, 6:00 p.m. in Lund Family Chapel (May 15 through July 31)
Reconciliation will be available Fridays, 12:30-1:00 p.m. in the Chapel of Christ the Teacher.