Welcome to Campus Ministry!
Campus Ministry at the University of Portland provides opportunities for all members of the community to grow in awareness of God's presence and God's invitation to communion. For Christians this includes growing in the capacity to know, believe and live out the Good News of Jesus Christ. This flows from our grounding in the Catholic tradition inspired by the charism and spirituality of the Congregation of Holy Cross.
In this time of uncertainty, Campus Ministry hopes to continue accompanying you in your walk of faith.
Need prayer? Visit our prayer request page! Our Campus Ministry team would love to pray for you.
Find a collection of faith resources from Campus Ministry and other departments on campus.
Campus Ministry Highlights
December Liturgy Schedule
The liturgy schedule for the remainder of the semester is as follows:
Daily Mass will continue M-F at 12:05 p.m. through December 19th

On Sunday, December 6th, there will be 10:30 a.m. and 1:00 p.m. Mass

On Sunday, December 13th and Sunday, December 20th, there will be 10:30 a.m. Mass only
The Chapel will be closed for the Christmas break from Monday, December 21st through Sunday, January 3rd. Please reach out to Fr. Tim Weed, C.S.C., at weed@up.edu with any questions.
Attending Mass on Campus
Anyone interested in attending Sunday Mass must sign up via this survey and receive an email notifying them of their acceptance before being permitted to attend.
Those who are interested in attending daily Mass (Monday through Friday at 12:05 p.m.) do not need to submit the survey but are required to check in with the hospitality minister at the front of the Chapel of Christ the Teacher prior to Mass.
We also ask that you read the guidelines for signing up and attending Mass. 
Please note that the dispensation from the Mass obligation remains in effect and that Campus Ministry will also continue to stream Mass online. You may find the live stream link and worship aid below. You are welcome to contact ministry@up.edu or 503.943.7131 with any questions.
Mass Available Online
Campus Ministry streams Sunday Mass at 10:30 a.m. (PT) and daily Mass at 12:05 p.m. Monday through Friday. You can access the live stream here and you can also download the worship aid.
We also invite you to visit this page for information on the dispensation from Mass and how you can offer a prayer of Spiritual Communion.
Finally, please visit our Reconciliation page for an update on receiving the sacrament.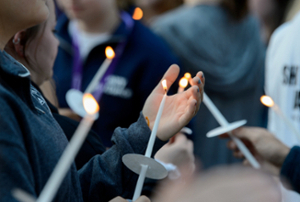 The One Body Initiative
The One Body Initiative provides weekly materials for reflection, connection to peers through small groups, and resources for rooting one's life in prayer. Framing this journey is a look into the call offered by the Gospels to remove the barriers that hold us back from experiencing God's love and from loving our neighbor. 
Thank you to all who participated in the One Body Initiative this semester. Registration for spring small groups will open in January. Check back soon!
Campus Ministers Available to Talk
Please know of the prayers of Campus Ministry for you and for our community during this time. Know, too, that Campus Ministers are available to talk with you. To schedule a time to speak with a Campus Minister, please visit this link. Once you submit your request, the Campus Minister you requested will be in touch with you via email. You can also schedule an appointment with a priest for Confession via this same link.
As usual, you are also welcome to email ministry@up.edu or call 503.943.7131 to reach Campus Ministry.