Welcome to Campus Ministry!
Campus Ministry at the University of Portland provides opportunities for all members of the community to grow in awareness of God's presence and God's invitation to communion. For Christians this includes growing in the capacity to know, believe and live out the Good News of Jesus Christ. This flows from our grounding in the Catholic tradition inspired by the charism and spirituality of the Congregation of Holy Cross.
In this time of uncertainty, Campus Ministry hopes to continue accompanying you in your walk of faith.
Need prayer? Visit our prayer request page! Our Campus Ministry team would love to pray for you.
See below for information about Masses and connecting with a Campus Minister.
Campus Ministry Highlights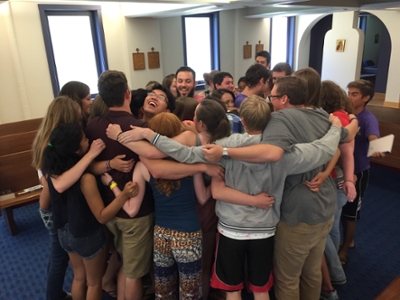 Leaven Pre-orientation Retreat
All incoming students are invited to Leaven, our pre-orientation retreat! This year, Leaven will be a virtual retreat, taking place over July 20th-22nd. Led by a team of students, Leaven invites you to consider how you hope to grow in faith in college. The retreat will include talks, small group reflection, games, prayer, and more. Register by July 6th!


Resuming Public Masses
The Archdiocese of Portland has permitted the resumption of public Masses on a limited basis for parishes and churches within its confines. Campus Ministry will offer the opportunity for members of the community to attend Mass beginning May 17th. No more than 25 people will be permitted in the Chapel at any time. 
Anyone who would like to attend a Mass must submit this survey to Campus Ministry. We will then contact you with information about the Mass you are invited to attend.
We also ask that you read the guidelines for signing up and attending Mass. 
Please note that the dispensation from the Mass obligation remains in effect and that Campus Ministry will also continue to stream Mass online. You may find the live stream link and worship aid below. You are welcome to contact ministry@up.edu or 503.943.7131 with any questions.
Mass Available Online
Campus Ministry will be streaming Sunday Mass at 10:30 a.m. (PT) and daily Mass at 12:05 p.m. Monday through Friday. You can access the live stream here and you may also download Sunday's worship aid.
We also invite you to read this letter from Campus Ministry sharing more about what it means to have dispensation from Mass and how you can offer a prayer of Spiritual Communion.
Finally, please visit our Reconciliation page for an update on receiving the sacrament.
Campus Ministers Available to Talk
To all of our community members: 
Please know of our prayers for you and for our community during this time. Know, too, that Campus Ministers are available to talk to anyone who may wish to process the current situation. To schedule a time, please email ministry@up.edu or call 503.943.7131 and leave a voicemail.
Please see UP's Coronavirus webpage for continued updates. Thank you.