Welcome to Campus Ministry!
Campus Ministry at the University of Portland provides opportunities for all members of the community to grow in awareness of God's presence and God's invitation to communion. For Christians this includes growing in the capacity to know, believe and live out the Good News of Jesus Christ. This flows from our grounding in the Catholic tradition inspired by the charism and spirituality of the Congregation of Holy Cross.
Helpful links:
Campus Ministry Highlights
"A Life Well Lived": On-campus Retreat, March 19th-20th
This on-campus opportunity for community, reflection, and prayer will be facilitated by student leaders and will include time for small group conversation, worship, student talks, and more. The retreat will begin the evening of Friday, March 19th in the Chapel of Christ the Teacher and participants will reconvene the following morning, concluding before dinner on Saturday, March 20th. The retreat will engage with the question "What is a life well lived?"
Registration is now open at this link! There is no cost for the retreat but spaces are limited so register early! Please email Veronicca at bathon@up.edu with any questions.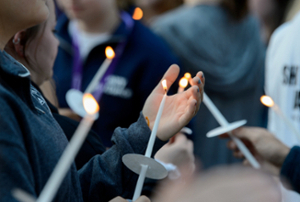 The One Body Initiative
The One Body Initiative is back for its second semester!
Through this program, you'll find connection to peers through small groups, regular reflection materials, and resources for rooting one's life in prayer. Framing this journey is a look into the call offered by the Gospels to remove the barriers that hold us back from experiencing God's love and from loving our neighbor. 

Online registration for the One Body Initiative is now closed. However, you can still connect with a group by emailing ministry@up.edu
Attending Mass on Campus
We welcome all current students, faculty, and staff to attend Masses on campus. Due to the current limited access to campus, we are restricting attendance at these Masses to only current members of the immediate UP community. We hope to be able to ease some of these restrictions as the semester continues. Please return to this page for further updates.
Masses are celebrated at 10:30 a.m. and 8:00 p.m. on Sundays in the Chapel of Christ the Teacher.
Daily Masses are celebrated at 12:05 p.m. Monday through Friday in the Chapel.
The 10:30 a.m. Sunday Mass and the daily 12:05 p.m. Mass are streamed online. You can find the livestream link and worship aid below.
Please note that the dispensation from the Mass obligation remains in effect.
All those attending Sunday Mass on campus are asked to RSVP through the UP Engage platform. Please find the appropriate Mass time under 'Events' and RSVP. We are currently limited to 50 spots for each Mass. Please note that we can only permit current students, faculty, and staff at this time.
You are welcome to contact 
ministry@up.edu
or 503.943.7131 with any questions.
Mass Available Online
Campus Ministry streams Sunday Mass at 10:30 a.m. (PT) and daily Mass at 12:05 p.m. Monday through Friday. You can access the live stream here.
We also invite you to visit this page for information on the dispensation from Mass and how you can offer a prayer of Spiritual Communion.
Finally, please visit our Reconciliation page for an update on receiving the sacrament.
Campus Ministers Available to Talk
Please know of the prayers of Campus Ministry for you and for our community during this time. Know, too, that Campus Ministers are available to talk with you. To schedule a time to speak with a Campus Minister, please visit this link. Once you submit your request, the Campus Minister you requested will be in touch with you via email. You can also schedule an appointment with a priest for Confession via this same link.
As usual, you are also welcome to email ministry@up.edu or call 503.943.7131 to reach Campus Ministry.