Downtown/Pioneer Square
What You'll Find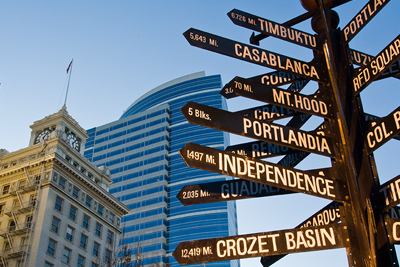 In the heart of downtown, Pioneer Courthouse Square is sometimes called Portland's Living Room. Check out one or more of the many events planned within the square. Walk one block to Pioneer Place shopping mall for a variety of major retailers, or grab a bite at the food court. Explore around Pioneer Square for lots of additional shopping options, including Nordstrom department store. Catch a movie inside Pioneer Place or at nearby Fox Tower. National acts perform music, dance, and comedy at the Arlene Schnitzer Concert Hall or Antoinette Hatfield Hall. A few blocks east of Pioneer Square, you'll find Tom McCall Waterfront Park. Enjoy a stroll along the Willamette River, or take in the food, art, crafts, and street performers at Portland Saturday Market.
How to Get There
Take Willamette Blvd to N Rosa Parks Way | Turn right on N Greeley Ave. | Turn right on N Interstate Ave. | Continue right onto NW Broadway Bridge. | Turn left on NW Broadway | Drive 0.8 miles to Pioneer Courthouse Square. Trip time: 16 minutes/5.9 miles
TriMet bus line 44 leaves from the main campus entrance every 40 minutes. Trip time: 34 minutes.