Beauchamp Recreation & Wellness Center
The Beauchamp Recreation & Wellness Center will close Tuesday, November 17th,  in accordance with State and County mandates, and will remain closed over Winter Break.  The ability to reopen in 2021 will rely upon State, County and University guidance.  Rec Services will use this website and social media to communicate any information related to the status of the facility.
Outdoor Pursuits rentals and online Fitness Classes will continue.  OPP Schedule  Fitness Schedule
Information below applies when the facility is open with COVID-19 protocols in place.
Heightened cleaning & safety processes are in place to meet the challenges of COVID-19.
Increased frequency of cleaning common touchpoints throughout the facility, 
Disposable cleaning wipes.
Facemasks required at all times worn over nose & mouth.
Adjusted traffic flow and equipment spacing.
Shorter facility hours with full facility cleaning between each facility session.
Reservations for free weights and Climbing Center at
recservices.up.edu

Most areas do not require a reservation.
Occupancy limit of 50, from 11/11/2020-11/25/2020.
Prior to entry, please complete the online 
Waiver and Liability Release
COVID-19 adaptations are in place including COVID-related questions & temperature reading before scanning IDs.  State, County and University regulations, impact facility policies.  Follow Rec Services on Facebook and Instagram, @uprecservices for updates.
Please check FAQs for addition information related to COVID-19 requirements and service changes.
Reservations are required for the free weight and climbing areas and may be made 48 hours in advance.  Make reservations here.
Outdoor equipment and rental bikes are available.  For schedule, visit our hours page.
For more information:  503.943-8748 or libby@up.edu.
Live, on-line fitness classes taught by students are available to UP students, faculty & staff.  
Fitness Class Information & Schedule    
Please address any questions related to refunds to bourne@up.edu or dezzani@up.edu
The Beauchamp Recreation & Wellness Center is the hub for fitness and recreation on the University of Portland campus.  A 2016 Athletic Business Journal Award of Merit facility, "The Beau" is a state-of-the art facility designed with the user in mind.  With windows surrounding the indoor track, cardio suite, weight room, gyms and fitness studios, high ceilings and an outdoor workout space, the facility is an airy and welcoming place where Portland Pilots work toward living a healthy lifestyle.
Fitness studios of three different sizes allow for large & small group classes. The large cardio loft offers over 50 cardio pieces including bikes, stair climbers, ellipticals, adaptive motion trainers, elliptical, lateral x, arm trainers, rowers and of course, treadmills. Most have built-in TV screens.
The weight room blends free weights and cable machines to provide great options for weight training. Two additional areas house kettle bells, medicine balls, dumb bells, plyo boxes, exercise balls and jump ropes.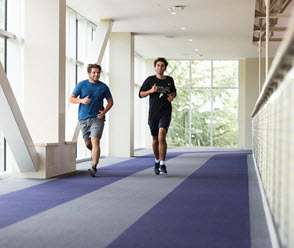 The facility also has TVs throughout with sporting events showing as well as in-house announcement screens. Our student staff picks our in-house music so you're likely to hear some great tunes.
Women's and men's locker rooms round out the facility offerings with elegant tile floors, glass shower dowers and wood lockers. There are also day-use lockers available throughout the facility.
Programs
Recreational Services offers programs for UP students, faculty & staff including fitness classes, intramural sports, outdoor trips, equipment rental, and CPR training. Most staff within these programs are UP students. The offices for Outdoor Pursuits, Intramural Sports, Fitness Programs and Equipment Rental are all located in the Beauchamp Recreation & Wellness Center.
The Center is open to students, faculty, and staff at no charge. Alumni and spouses/partners can purchase memberships at the facility.  
The Rec Gym has great natural light and two courts for your basketball, volleyball, badminton, futsal, pickleball, and team handball needs. The Practice Court is a single NCAA sized court and can be used by students when practices are not in session
The bouldering wall and climbing tower are an integral part of our facility and programs. Staff changes routes frequently, offering something for all skill levels. Shoes are available for use at no charge