Beauchamp Recreation & Wellness Center
The "Beau" is open to all students, faculty and staff, and offers a beautiful workout space, classes, equipment rentals, and intramural leagues. Stop in to join the fun!
---
Masks that cover the nose and mouth are now required in the Beauchamp Center at all times, including while working out, due to State of Oregon mandate.  This applies to all users, whether vaccinated or not.  Users who do not comply will lose access privileges.
Guests, Spouses, and Alumni are not eligible to use the facility at this time.
Before using the Rec Center, all users 18 years or older, must fill out the liability release at recservices.up.edu  Users who have filled this out since September 2020, are all set.
Minors must have a parent or guardian digitally sign the BRC liability release for minors (pdf), and return it to dezzani@up.edu
Additional entry requirements   Additional policies
Hours
Check current BRWC facility occupancy
---
Outdoor equipment and rental bikes are available.  For schedule, visit our hours page. 
Fitness classes taught by students are available to UP students, faculty & staff.  Fitness Class Information & Schedule  
For more information:
Facility Operations, Student Development, and Fitness- Britt Rosenthal, rosentha@up.edu, 503-943-7294, during facility hours.
Outdoor Pursuits, Indoor Climbing and Rental Center- Matt Libby, libby@up.edu, 503-943-7184
Program Operations, Intramural Sports, equipment, policy, website, reservations- Brian Dezzani, dezzani@up.edu, 503-943-7177
---
The Beauchamp Recreation & Wellness Center is the hub for fitness and recreation on the University of Portland campus.  A 2016 Athletic Business Journal Award of Merit facility, "The Beau" is a state-of-the art facility designed with the user in mind.  With windows surrounding the indoor track, cardio suite, weight room, gyms and fitness studios, high ceilings and an outdoor workout space, the facility is an airy and welcoming place where Portland Pilots work toward living a healthy lifestyle.
Fitness studios of three different sizes allow for large & small group classes. The large cardio loft offers over 50 cardio pieces including bikes, stair climbers, ellipticals, adaptive motion trainers, elliptical, lateral x, arm trainers, rowers and of course, treadmills. Most have built-in TV screens.
The weight room blends free weights and cable machines to provide great options for weight training. Two additional areas house kettle bells, medicine balls, dumb bells, plyo boxes, exercise balls and jump ropes.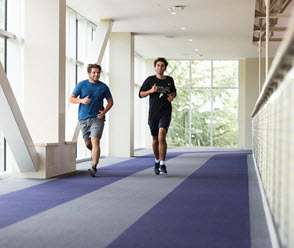 The facility also has TVs throughout with sporting events showing as well as in-house announcement screens. Our student staff picks our in-house music so you're likely to hear some great tunes.
Women's and men's locker rooms round out the facility offerings with elegant tile floors, glass shower dowers and wood lockers. There are also day-use lockers available throughout the facility.
Programs
Recreational Services offers programs for UP students, faculty & staff including fitness classes, intramural sports, outdoor trips, equipment rental, and CPR training. Most staff within these programs are UP students. The offices for Outdoor Pursuits, Intramural Sports, Fitness Programs and Equipment Rental are all located in the Beauchamp Recreation & Wellness Center.
The Center is open to students, faculty, and staff at no charge. Alumni and spouses/partners can purchase memberships at the facility.  
The Rec Gym has great natural light and two courts for your basketball, volleyball, badminton, futsal, pickleball, and team handball needs. The Practice Court is a single NCAA sized court and can be used by students when practices are not in session
The bouldering wall and climbing tower are an integral part of our facility and programs. Staff changes routes frequently, offering something for all skill levels. Shoes are available for use at no charge