Portland Magazine
Portland magazine aims to bring you inspiring, challenging, deeply human stories that keep you reading even if you have a thousand other things you should be doing.
Digital issues of the magazine are complimentary, but with your annual gift of $20, the print version can be mailed directly to you.
Support Portland Magazine Join Email List
Editor's Letter - March 2020
From My Home to Yours
I AM WRITING TO YOU to at 5:30 a.m. so that I can focus on my thoughts before my kids get up and the school-and-work-from-home day begins.

As we face the COVID-19 pandemic, I am sending my prayers for your health and the health of your communities. I am also sending prayers for inner calm. 

Here at your University, we are all adapting as best and as swiftly as possible. The campus is quiet, as most students have gone home, and most faculty and staff are now working remotely. Online instruction started on March 18. I took some solace in President Fr. Mark Poorman's recent message.

On the day the students learned they would need to head home, I received an email from a resident of Villa Maria Hall. He'd seen the Portland piece on Carmen Ruiz, the hall's housekeeper, and he asked if I could send him a pdf of it. He wanted to print it and frame it for her. That act of thoughtfulness amidst uncertainty spoke volumes about the students and community here at University of Portland.

I've been thinking a lot about how we can be a community for one another during this period. I'd love to hear what you are doing to keep your spirits up, to find and build community creatively as we follow social distancing guidelines. Let us know how and what you're doing: portlandmagazine@up.edu.

I think I hear my kids rumbling upstairs. Time to get the school-and-work-from-home day going. Any brilliant educators out there have any advice on staying patient while teaching and working from home with children? Dance breaks seem to help (me) a little, but I think I need a couple more tricks up my sleeve.
— Jessica Murphy Moo
Read the full issue at ISSUU or explore the stories. 
Current Issue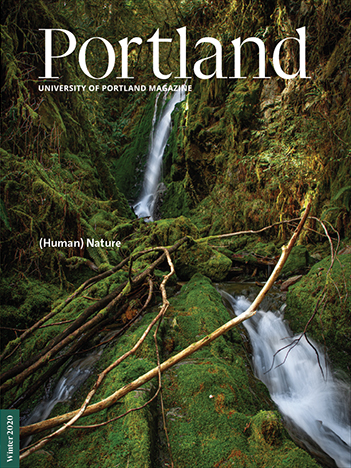 Winter 2020
This issue features "Home and Free" about a life-changing experience in Olympic National Park by Rosette Royale; "The Clinic the House Built" about a new partnership with UP's School of Nursing, Volunteers of America Oregon, and the Blanchet House by Amanda Waldroupe; "'Affordable' Affordable" about Rob Justus '87 and his drive to built truly affordable housing by Marcus Covert '93, '97; "At the Root" about history, language, family memory and horseradishes by Fr. Patrick Hannon, CSC; and "Bedside with Mr. Lopez" about the School of Nursing's new Simulated Health Center by Jessica Murphy Moo.