Portland Magazine
Portland magazine aims to bring you inspiring, challenging, deeply human stories that keep you reading even if you have a thousand other things you should be doing.
Digital issues of the magazine are complimentary, but with your annual gift of $20, the print version can be mailed directly to you.
Support Portland Magazine Join Email List
Editor's Letter - Fall 2021
Behind the Scenes
WE'RE DEDICATING THIS issue generally to those who work behind the scenes and specifically to longtime associate editor Marcus Covert, beloved alum, colleague, and friend, who passed away in July after a brief and courageous battle with cancer.  
Marcus was a behind-the-scenes person, and I miss him terribly. Our whole team misses him terribly. He worked faithfully for the University for more than 25 years, almost all of which were for Portland magazine.  
This is the first issue that we've pulled together without him, and, well, the whole operation was a lot more challenging. (Please note that we have written more on his life in our "In Memoriam" section, specifically on page 44.)  
My appreciation for Marcus's contributions has led me to reflect on others who work with humility behind the scenes. Editors are supposed to be that way. Aside from choices and decisions about what goes into a magazine, the editor should more or less be invisible on the page, the stagehand dressed in black ready in the wings, working hard to make sure the singer looks and sounds her best, so that the audience, dazzled by the singer's performance, thinks of the singer and only the singer. That's what editors want for their writers. We want the writer's voice to shine on the page. 
And it occurs to me, if you'll allow me to continue the reflection (and risk mixing a metaphor), that everyone who works at UP wants the same for the students. We want them to do well here, to figure out their voice, and to use it out in the world.  
It has been so great to have students back on campus this fall after such a quiet, mostly-online academic year last year. Their energy, the hope they inspire—it's everywhere. They are the reason we come to work. They are the reason any of us is here, working in the wings.
— Jessica Murphy Moo
Read the full issue at ISSUU or explore the stories. 
Current Issue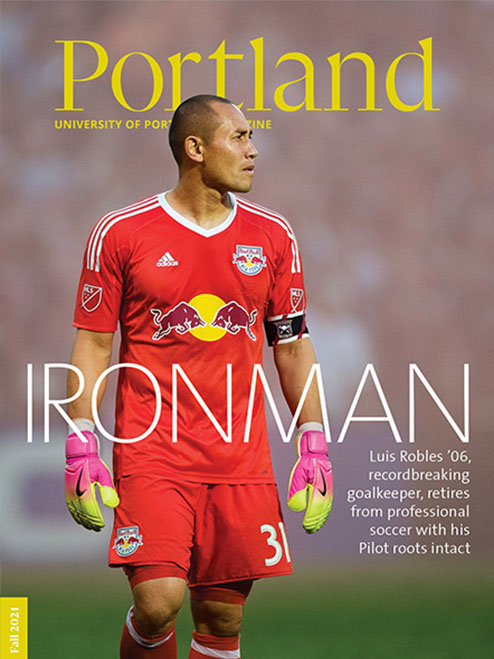 Fall 2021
This issue features the work of writer and artist Makoto Fujimura; "The Line" by UP history professor Blair Woodard about his observations of the art and resilience along the US–Mexico border near Playas de Tijuana; "Humble Keeper" by Katelyn Best about the Major League Soccer career of alum Luis Robles; and "The Clive Effect" by Danielle Centoni about the enduring impact of UP's late and legendary soccer coach Clive Charles.