Portland Magazine
Portland magazine is back!
2019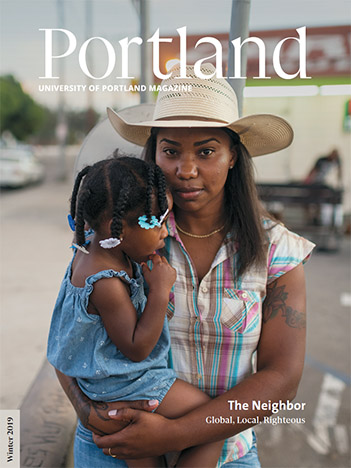 Winter 2019
Walter Thompson-Hernández '09 on writing about underrepresented communities; Jessica Murphy Moo on UP's first North Portland Civil Rights Immersion; Karen Eifler on Blessed Basil Moreau; Katie Hughes '02 on Girls Build and the importance of teaching girls the trades; and Tara Prestholdt on her sabattical—on motorcycle—from Portland to the southern tip of South America and the tide pools visited and lessons learned along the way.
Editor's Letter - Winter 2019
Here Goes
When we discovered that my oldest had a whole host of food allergies, her pediatrician sat her down and said, "OK, kiddo, we're still learning you." That phrase has stuck with me ever since. The "you" in "I'm learning you" can stand in for so many things: my children at each new hour, the mysterious nature of love, houseplants and how to keep them alive, my blindspots, the subject on the tip of my pen, the world, any number of my inner wrestlings.
Now, I find myself applying it to my new neighbors and my new home here at the University of Portland. The "you" is also, well—you, dear reader.
I know it takes time to learn a community. I'm still new (at you), but at some point I hope to know this place and its people the way the poet-physician William Carlos Williams knew the city and residents of Paterson, NJ, where he made house visits and caught the cadence of the place in the poems he wrote on his prescription pads. I hope to know the University of Portland the way my predecessor, Brian Doyle, knew it, the way he knew you. (Reading past issues of the magazine is to read not only about this place, but also to read the palm of Brian's hand; we can see just what was on his mind and heart and how UP was tangled up in all of that.)
The UP community has welcomed me and my family, and for that I am so very grateful. I am grateful for the example and challenge Brian has left for me, the beauty and humanity bursting at the seams from Portland magazine. I'm even grateful every time someone says "big shoes" to me because I can only smile and agree; then I can't help but imagine my six-year-old daughter clomping around in my high heels, forging ahead (a little precariously) to big, unknown places.
And one other notable welcome I don't want to let go by without thanks: On my first day in this position, I'd gotten up at 4 a.m. to pack the car, kissed all the sleeping people in the house goodbye, and made my early morning commute from Seattle. Just outside of campus, I stopped at a grocery store to throw on some unrumpled clothes, a little water to the face, a little makeup, a little ready as I'll ever be. I got to work on time, a bit wired. Waiting for me on my desk was a note of welcome from Brian's wife, Mary Miller Doyle. Her kindness and encouragement—the word magnanimity comes to mind—meant more to me than I can say.
Thank you. Here we go.
— Jessica Murphy Moo
Read the full issue at ISSUU or explore the stories.