Pilot Perks - Alumni Benefits Program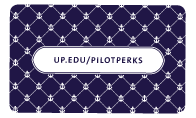 Pilot Perks is the University of Portland's alumni benefits program. The alumni office is proud to partner with a variety of local businesses and on-campus partners to provide alumni with exclusive offers and discounts. To access the following discounts and benefits, show your Pilot Perks membership card prior to purchase, or use the discount codes provided below.
Primary preference for inclusion in this program goes to UP alumni, parents, or friends of the University. If you are a UP community member interested in listing your business on Pilot Perks, please email alumni@up.edu.
Food & Beverage

Pilot House Pub
$1 off beer and 10% off food during normal operation hours.
Lardo
Free order of fries, no minimum purchase required. (Not honored at the Lake Oswego location.) 
Grassa
Free contorni (vegetable side), no minimum purchase required.
Life of Pie Pizza
10% discount on food.
Stickmen Brewing Company
$1 off regularly-priced pints.
Occidental Brewing Co.
$1 off beer on Thursdays.
NoFork Bakery
15% discount on all custom dessert orders. Contact Toni Kovacevic '04 at info@nofork.com for a consultation and availability.
Retail

Nike
"Portland Pilots at the Nike Employee Store" is periodically held for alumni. Nike retail pass notifications are emailed to alert alumni of upcoming shopping periods.
Columbia
"UP Month at the Columbia Employee Store" is periodically held for alumni. Columbia retail pass notifications are emailed to alert alumni of upcoming shopping periods.
UP Bookstore Discount
10% discount on UP insignia items at the University of Portland bookstore.
Activities & Travel
Portland Center Stage
Check back soon regarding the 2022-2023 season.
Saturday Academy
Receive 20% discount on a class or camp at any Saturday Academy location with the "UP20." The Saturday Academy offers classes and camps for students in grades 2–12 in STEM and the Arts, as well as internships for high school students.
UP Pilot Athletics
Graduates of the Last Decade (GOLDs) receive 50% off Pilot basketball and Pilot soccer season tickets! All other alumni, be sure to look on the Portland Pilots Box Office website for special discounts on Pilot Athletics Alumni Days. Please email pilotsboxoffice@up.edu for inquiries and ticket purchase.
UP Mago Hunt Theater
Receive half price tickets to any UP Theater Production with the Promo Code: UPALUMNI. Visit the Mago Hunt Box Office page for Ticket Information.
UP Music Department Concerts
Enjoy free concerts by the choirs and ensembles on campus. Concert schedule found here.
Inn at Northrup Station
Get 10% off your stay at Portland's Unique Boutique Hotel! This fabulous locally owned all-suites hotel is located in Northwest Portland in the historic Nob Hill and Slabtown neighborhood. Every stay includes an on-site parking pass, continental breakfast, Portland Streetcar tickets, and free Wi-Fi.  Use promo code UOFP when booking on their website.
Access to UP Beauchamp Recreation and Wellness Center
Alumni in good standing with the University may purchase BRWC memberships at the front desk. Membership costs $120/semester and payment periods are the same as the University's fall, spring and summer semesters. As of May 23, 2022, proof of vaccination and booster is required. 
 Career

UP Career Center
Whether you are job searching, contemplating a career change, or discerning the merits of graduate or professional school, the Career Center offers advice, services, and resources to help alumni meet their career and professional goals. To set up an in-person or over-the-phone appointment, call 503.943.7201.
UP Switchboard
Make the most of your University of Portland network with UP Switchboard! Ask for what you need and offer what you have. Go to UP Switchboard to start connecting.
$5 Transcripts
Receive your official transcript by mail or electronically. Contact the Office of the Registrar at 503.943.7321.
Services

Amy Pearson Design
20% off interior design, discount adjustable depending on project.
2 Brothers Moving and Delivery
Three months of free storage for two containers with a move of 4 hours or more. Mention that you're a UP alum over the phone.
Geico Insurance
University of Portland alumni and friends can receive a special discount on GEICO auto insurance. GEICO offers great rates, exceptional 24- hour service, fast fair claims handling and high quality auto insurance to over 15 million policyholders. Visit geico.com/alum/Portland, or call 1-800-368-2731 to find out how much you can save today. Be sure to mention the University of Portland to be eligible for this special savings!
Access to Clark Library
Alumni have access to library resources including computer access and borrowing privileges (some restrictions may apply; availability is currently limited due to COVID concerns). 
PDX North Harbour Marriott Hotels
Book a room with exclusive UP discounted rates. Or call any North Harbour Marriott location and tell them you'd like the University of Portland Alumni rate.
Sniff Dog Hotel
Show your Pilot Perks card to receive $6 off the self-dog wash station.
K. Doyle Photography
10% off family or senior portraits! Contact Katie Doyle '12 at kathleendoyle723@gmail.com for more information on prices and scheduling.
Iron & Rye Photography
Hire Iron & Rye for wedding or lifestyle photography and receive 15% off print or digital products. Contact Rick Baleros '13 at contact@ironandrye.com for more information.
Mia Rose – Brand Photography
10% discount on photography services for personal brands, businesses, and organizations. Contact Mia Rose '18 at hello@rosebud.photo for more information on services and scheduling.