On-Campus Dining
See Today's Menus    Meal Plan Information
Bauccio Commons
Bauccio Commons is UP's main dining hall, serving breakfast, lunch, dinner, and coffee drinks all day long. More than just a dining hall, students meet up here for studying, conversations, relaxing by the fireplace, or enjoying the sun on the outdoor patio. Students use their meal points for all purchases. Daily choices include soups, salads, sandwiches and burgers, as well as a rotating selection of hearty lunches and dinners from "Carve," rotating featured international dishes from "Global," and a daily pasta special. 
Pilot House
Pilot House features a coffee bar, fireplace, couches, and cozy chairs for relaxing or studying. The coffee bar is open early in the morning, and a variety of pub-style food is available from lunchtime to late in the evening, with beer and wine available for purchase by those 21 and over.
On weekend nights, the Pilot House hosts Pilots After Dark, featuring music, comedy shows,trivia nights, game shows and more.
The Anchor
Located on the Northwest end of campus on the ground floor of Haggerty Hall, The Anchor is a gathering place that serves espresso, gelato, and baked goods. Comfy couches make this a favorite study spot, too.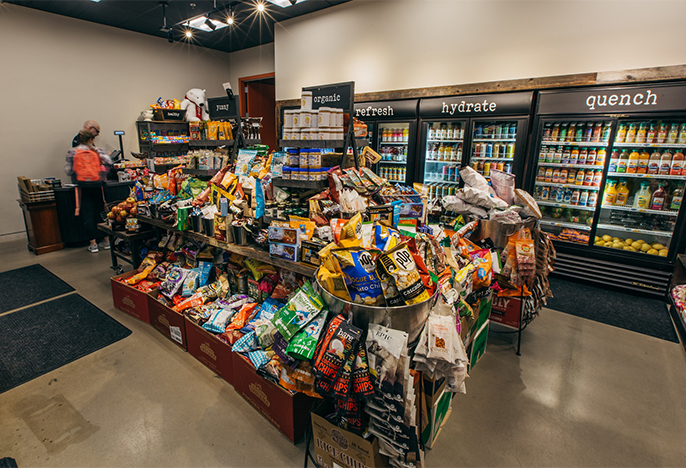 Mack's Market
In a rush or need to stockpile some food for midnight studying? 
 Grab-and-go sandwiches, salads, healthy snacks, and drinks are available for purchase (students can use meal points) from Mack's Market.