ReadUP - One Book Together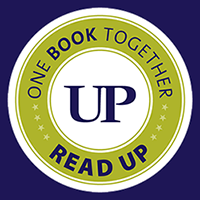 ReadUP is University of Portland's annual celebration of literature in which the entire local campus community—students, faculty, and staff—are invited to read "one book together." Free copies of each year's selection are distributed by the Clark Library, and book discussion groups are formed in the residence halls and at brown bag lunches. The campaign culminates with a public lecture and discussion by the book's author, as part of the Schoenfeldt Distinguished Visiting Writers Series. The author's visit to the UP campus—and the efforts to get each year's riveting selection into the hands, heads and hearts of UP students, faculty and staff—is sponsored by the Schoenfeldt Distinguished Writers Series, the Office of the Provost, Garaventa Center for Catholic Intellectual Life & American Culture, Clark Library, Office of Residence Life, the Office of University Relations, and the Office of Marketing and Communications.  

This year's ReadUP is now a vivid and successful memory. Check this space in October 2021 for the announcement of the ReadUP selection for 2021-22!
2020-2021 - How To Be An Antiracist - Ibram X. Kendi
"How to Be an Antiracist gives us a clear and compelling way to approach, as Kendi puts it in his introduction, 'the basic struggle we're all in, the struggle to be fully human and to see that others are fully human.'" ~ from NPR

Ibram X. Kendi is one of America's foremost historians and leading antiracist scholars. He is a National Book Award-winning and #1 New York Times bestselling author... In 2020, Time magazine named him one of the 100 most influential people in the world. ~ from ibramxkendi.com