ReadUP - One Book Together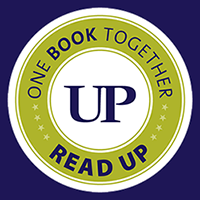 ReadUP is University of Portland's annual celebration of literature in which the entire campus community — students, faculty, and staff — are invited and encouraged to read "one book together." Free copies of each year's selection are distributed by the Clark Library, and book discussion groups are formed in the residence halls and at faculty/staff brown bag lunches. The campaign culminates with a public lecture and discussion by the book's author, as part of the Schoenfeldt Distinguished Visiting Writers Series. The author's visit to the UP campus — and the efforts to get each year's riveting selection into the hands, heads and hearts of UP students, faculty and staff — is sponsored by the Schoenfeldt Distinguished Writers Series, the Office of the Provost, Garaventa Center for Catholic Intellectual Life & American Culture, Clark Library, Office of Residence Life, the Office of University Relations, and the Office of Marketing and Communications.  
ReadUP 2017-2018 Reading Guide
2017-2018 - The Immortal Life of Henrietta Lacks - Rebecca Skloot
About this year's selection
This New York Times bestseller tells a riveting story of the collision between ethics, race, and medicine; of scientific discovery and faith healing; and of a daughter consumed with questions about the mother she never knew.
Though best-known for The Immortal Life, Rebecca Skloot has written more than 200 feature articles, personal essays, book reviews, and news stories for The New York Times Magazine, O, The Oprah Magazine, Discover, and other publications. She served as co-editor of The Best American Science Writing 2011 and has worked as a correspondent for NPR's Radiolab and PBS's Nova ScienceNOW.
Upcoming Events 
UP community members will want to discuss this book, and there are three opportunities to do so, open to all UP faculty, staff and students. Each will have a slightly different focus, so you might consider participating in more than one session. Light refreshments will be served at each.
Wednesday, February 7, 2018
Book Discussion Group co-facilitated by Fr. Charlie Gordon, CSC, and Susan Murray, biology
12-1 p.m. | Library Conference Room
Tuesday, February 13, 2018
Book Discussion Group co-facilitated by Fr. Charlie Gordon, CSC, and Dave Wynne, biology
12-1 p.m. | Library Conference Room
Thursday, February 22, 2018
Book Discussion Group co-facilitated by Fr. Charlie Gordon, CSC, and Thompson Faller,  philosophy professor emeritus
12-1 p.m. | Library Conference Room
Monday, February 26, 2018
Schoenfeldt Distinguished Visiting Writers Series presents Rebecca Skloot
7:30 p.m. | Public Lecture | Buckley Center Auditorium | Free