ReadUP - One Book Together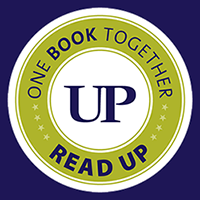 ReadUP is University of Portland's annual celebration of literature in which the entire local campus community—students, faculty, and staff—are invited to read "one book together." Free copies of each year's selection are distributed by the Clark Library, and book discussion groups are formed in the residence halls and at brown bag lunches. The campaign culminates with a public lecture and discussion by the book's author, as part of the Schoenfeldt Distinguished Visiting Writers Series. The author's visit to the UP campus—and the efforts to get each year's riveting selection into the hands, heads and hearts of UP students, faculty and staff—is sponsored by the Schoenfeldt Distinguished Writers Series, the Office of the Provost, Garaventa Center for Catholic Intellectual Life & American Culture, Clark Library, Office of Residence Life, the Office of University Relations, and the Office of Marketing and Communications.  
2019-2020: The Leavers, by Lisa Ko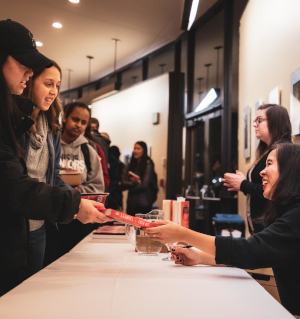 One morning, Deming Guo's mother, an undocumented Chinese immigrant named Polly, goes to her job at the nail salon and never comes home. No one can find any trace of her.

With his mother gone, eleven-year-old Deming is left with no one to care for him. He is eventually adopted by two white college professors who move him from the Bronx to a small town upstate. They rename him Daniel Wilkinson in their efforts to make him over into their version of an "all-American boy." But far away from all he's ever known, Daniel struggles to reconcile his new life with his mother's disappearance and the memories of the family and community he left behind.

Set in New York and China, The Leavers is a vivid and moving examination of borders and belonging. It's the story of how one boy comes into his own when everything he's loved has been taken away—and how a mother learns to live with the mistakes of her past.  ~ excerpted from Goodreads
Events 
Lisa Ko spoke at UP on February 10, 2020 as part of the Schoenfeldt Distinguished Visiting Writers Series. Check this site in October for information on next year's ReadUP selection.