ReadUP - One Book Together
ReadUP is University of Portland's annual celebration of literature in which the entire local campus community—students, faculty, and staff—are invited to read "one book together." Free copies of each year's selection are distributed by the Clark Library, and book discussion groups are formed in the residence halls and at brown bag lunches. The campaign culminates with a public lecture and discussion by the book's author, as part of the Schoenfeldt Distinguished Visiting Writers Series. The author's visit to the UP campus—and the efforts to get each year's riveting selection into the hands, heads and hearts of UP students, faculty and staff—is sponsored by the Schoenfeldt Distinguished Writers Series, the Office of the Provost, Garaventa Center for Catholic Intellectual Life & American Culture, Clark Library, Office of Residence Life, the Office of University Relations, and the Office of Marketing and Communications. 
 Reading Guide for Transcendent Kingdom 
2021-2022 - Transcendent Kingdom - Yaa Gyasi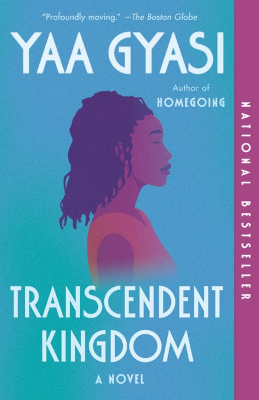 About this year's selection
"Gyasi's new novel, Transcendent Kingdom, is a book of blazing brilliance... a novel of profound scientific and spiritual reflection that recalls the works of Richard Powers and Marilynne Robinson." ~ The Washington Post
"Yaa Gyasi's profoundly moving second novel, Transcendent Kingdom, takes place in this vast, fragile landscape where the mysteries of God and the certainties of science collide. Through deliberate and precise prose, the book becomes an expansive meditation on grief, religion, and family." ~ The Boston Globe
Getting a copy
There are still free copies of the book for members of the UP community at the library front desk on a first-come, first-served basis. And don't forget, ebook copies are available through the library too.
UP Student Essay Contest
Want to dine with an award-winning fiction author? Six UP undergraduates will be chosen for the honor of having lunch with novelist Yaa Gyasi during her visit to campus on Wednesday, March 9. 
To win a spot, submit a short essay of around 500 words that thoughtfully explores, responds to, or connects ideas within this year's ReadUP selection Transcendent Kingdom. Essays can explore one idea or make connections across two or three big ideas in Gyasi's novel: faith, neuroscience, addiction, family, cultural identity, etc.
Submit your essay as a pdf attachment by Feb. 15 to garaventa@up.edu.
Upcoming Events 
Book discussions
Open to all UP faculty, staff and students. Each discussion will unpack a different theme from Transcendent Kingdom. 
Thursday, February 17, 2022
Facilitated by Brandy Daniels, UP Theology
11:30am-12:30pm | Library Conference Room
Tuesday, February 22, 2022
Facilitated by Amy Ongiri, UP Ethnic Studies
11:30am-12:30pm | Library Conference Room
Tuesday, March 8, 2022
Facilitated by Mark Pitzer, UP Psychological Sciences
11:30am-12:30pm | Library Conference Room


Lecture by Author Yaa Gyasi - in person and online
Wednesday, March 9, 2022
Schoenfeldt Distinguished Visiting Writers Series presents Yaa Gyasi
7-8pm | Buckley Center Auditorium and via Zoom livestream
Free and open to all -- Advance registration required for in-person or online attendance. Register for live or online lecture