How to Choose a College — Which College is Right for Me?
Choosing a college or university is a significant decision. With hundreds of schools to consider, many high school students can feel overwhelmed by the process. Here are some important factors to keep in mind so you can make the best decision.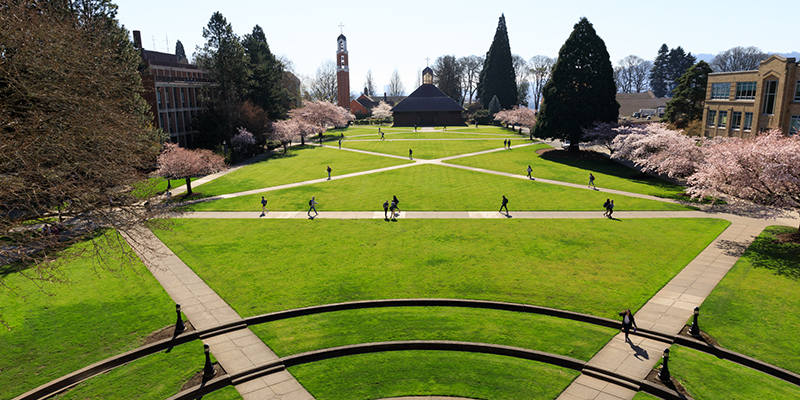 How to Choose the Right College
What Should My Major Be?
Visit Campus and Take a College Tour
Know the College Requirements and Academic Level
Don't Rule Out a College on Tuition Costs Alone
Discover What Financial Aid is Available to You
Are Jobs and Internships an Option?
Review College Graduation Rates
When choosing a college, remember that you are looking for a great fit. You want to choose a university that fits who you are and what you most value. The following tips will help you prioritize your interests and goals so you can attend a college that best meets your needs.
What Should My Major Be?
When choosing a major, think about what career you hope to have, and which college major will prepare you for it. Consider the high school classes or experiences that you have done well in and enjoyed. Spend time learning about careers that relate to these areas. Try to get first-hand information by setting up a job shadow or at least an interview with someone who is in the field that you are researching. This process can take some time, so it is helpful to start thinking about this early, even in your sophomore year of high school.
Once you have chosen a potential college major, or are leaning towards a specific course of study, make sure the schools you are considering offer a college degree in your field. This seems obvious, but in all the excitement of choosing a great college, some students forget to carefully review the academic offerings for your choice of majors and minors.
If a school offers your major, consider the quality of the program. What is unique about the way the university offers this course of study, and what opportunities do they offer? Can you incorporate a study abroad experience into your college studies? Have they recently built a new state-of-the-art studio or laboratory or created a partnership with a cutting-edge corporation? You can also research and compare schools to assess important statistics, such as job placement rates after graduation and acceptance rates into grad school. For example, if you're interested in a nursing program, find out the rates that students pass the NCLEX for nurse licensure. This data will help you to determine how well a college program prepares you for a successful career after earning your bachelor's degree.
What if I'm undecided?
Are you undecided when it comes to a major? That's OK! College is a great time to explore your interests. Many schools will allow you to enter as "undeclared" and will offer an advisor, or other services, to help you pick a major. Research the various options available at different colleges and universities and look for a school that can support you as you pick your classes, explore your interests, and choose a major. Make sure the college you choose has enough interesting programs so you can find a major that truly interests you.
The College Visit and Campus Tour
One of the best ways to determine if a school is a good fit for you is to visit the campus. Before your visit, contact the admissions office to set up a campus tour. Your tour guide will be very knowledgeable  and will be able to help answer your questions about the university Pay attention to the feel of the campus. Do you see students doing the things you like to do? Can you sense camaraderie and school pride among the students and professors?
In addition to a campus tour, make the most of your visit by meeting with an academic advisor who can talk to you about your major. Also, make an appointment with the financial aid office to review financial aid and scholarship options. Spend as much time on campus as possible. Talk to students about their experiences. Taking a look at the UP map, for example, can give you an idea of the size and layout of the campus as well as where students live, eat, and study together.
If you are lucky enough to be visiting during a concert, athletic game, or guest speaker, try to get tickets to attend. For example, if you visit the University of Portland, be sure to see what Portland activities are happening during your visit.
Can I picture myself living here for four years?
Another part of your college visit is to take some time to see the area surrounding the campus. Is it rural or urban? How accessible are cultural activities and outdoor opportunities you enjoy? Is there convenient public transportation or do you need to have a car to get off campus? Also, consider how far the school is from home and family members. Remember to review how close the school is to an airport if you'll be flying. Can you picture yourself enjoying life here for four years?
Campus Housing, Safety, and Community
In addition to taking classes, your college experience will be defined by the campus community. It's important to choose a college where  feel like you belong. As you tour a college campus, consider these questions:
How engaged are the students?
What is the size of the student body--does it feel too small or too big for you to make new connections and friends?
Do most of the students live on campus or commute from off campus?
Are the residence halls places where people sleep or places where students are part of a community and enjoy campus life together?
What kind of living and learning environments are offered?
How involved are the professors, not only in the classroom but outside of class?
What is the feel of campus?
Would it be an enjoyable place to spend time between classes?
Another aspect to consider is campus safety. Does the campus invest in measures to promote, create and maintain safety and security for the campus community?
You may also want to consider how the community reaches out beyond the borders of the campus. Engaging in humanitarian service and volunteer work together with professors and students creates a culture of meaningful and caring relationships. Check to see what service opportunities and activities are available that allow you to engage positively with others.
College Requirements and Academic Level
When choosing a college, it's important to make sure you meet the requirements. Research each school's college requirements and look for statistics on incoming freshmen. This information will help you know if the college is a good fit for you academically. You want to ensure you are pursuing colleges and universities that are a good match for your academic preparation and abilities so you can succeed as a student. 
Each college has its own GPA requirements, and with a little digging, you should be able to find the average high school GPA of incoming freshmen. If your GPA meets or exceeds the requirements or the average GPA, then you are a good candidate academically. ACT and SAT scores work in a similar way but are more objective, since everyone takes the same test. Determine if there is a required ACT or SAT score for admission to the school and find out the average college entrance exam score for freshman students.
Another thing to look at is the admission rate to the university. Schools can be classified as "somewhat selective," "selective," or "highly selective" based on the rate of acceptance. As you narrow your list of favorite colleges, it's a good idea to include a mix in order to have the most options.
Many students also find it helpful to classify a college as one of the following:
"Safety/Foundational" School
"Match" School
"Reach" School
"Safety" or "foundational" schools are the colleges that will undoubtedly accept you, but you may be significantly more prepared than the average student. "Match" schools are the colleges that are on par with your preparation, ability, and test scores. "Reach" schools are the colleges that may not accept you as a student. Either you are not quite meeting the school's averages, or the school is so highly selective that admission is questionable. As you apply to colleges, it is recommended that you have each type of school on your list of choices. However, be wary of choosing a school that is clearly not a good match for your abilities. You need to be challenged and be able to succeed.
If you do get accepted to a "reach" school—congratulations! That is exciting and it may be a good choice for you. Consider that you may not have the same preparation/ability as the average student, and classes might be much more difficult than high school. . If you still want to pursue a school that is known to be challenging, find out what resources are available to students who might need some  support along the way. Is there a writing center if you need to develop  those skills? Does the college have a math resource center to help with your calculus homework or a tutoring center to help you study? No matter which type of college you choose, it's helpful to research these resources before you apply. Most students will need help of some sort during their time in college.
It can also be helpful to consider the specific environments that support the way you best learn. Do you love small classes or large lecture halls? Do you like collaboration or a competitive environment? Do you thrive when learning is hands-on in a lab? Look for unique ways that a school fits you academically, so you are set up to succeed.
How to Pay for College
Tuition costs vary considerably, but so do the financial aid packages. You won't know the true, bottom-line cost until you get your financial aid package. Don't make the mistake of not applying to a school because you think it's not affordable. It's often more affordable than you think.
College is also an investment. Not only are you investing in four (or more) years of your life, but you're also making a financial investment in your long-term future. These four years will help define your path after college.
Most colleges will work with you to meet your financial need. Your financial need is typically determined by submitting the FAFSA (the Free Application for Federal Student Aid). The FAFSA opens each fall on October 1, and your family will need to submit tax information from the year prior. Both the student and parents (or parent with the most custody) need to be involved, and parents must provide the necessary financial information. After you submit the FAFSA, processes are used to determine the Expected Family Contribution (EFC), which is the amount that is expected that the family can contribute for one year of the student's education. If the cost of college attendance exceeds the EFC, the difference is considered your need. Your financial aid package is put together to meet this need.
It is important to realize that financial aid can be a combination of the following:
Grants - Money that you don't have to pay back
Loans - Money that you do have to pay back
Work-Study - The opportunity to work to offset the cost of attendance
Scholarships - Academic or merit scholarships, athletic scholarships, departmental scholarships, need-based scholarships, and outside or private scholarships. Be sure to review the scholarship deadlines and specific application requirements for each school, as they are often a separate process.
Financial Aid Acceptance - You do not have to accept each part of your financial aid package. Beware of accepting loans and accumulating too much student loan debt. Instead, do your best to find scholarships and job opportunities to help cover the cost of attendance. Talk to your parents about their plan to possibly help you pay for college. Talk to the financial aid and scholarship office to learn more about ways to pay for college and how to minimize your student loan debt.
Jobs and Internships for College Students
As you consider colleges, check to see if a school offers opportunities for students to find jobs and internships either on campus or with partners in the community. Do advisors work with students to help them build their resume and gain the skills necessary for employment? Many students don't think about finding a job until after college, but by doing this, they may be missing out on a lot of important skills, connections, and experiences. Students who work while going to school are building valuable job experience, developing good work habits, and are gaining financial benefit for their work. Studies have shown that students who work a part-time job while going to school actually have higher grades than those who don't.
What is the best way to find a job?
Many schools host hiring events as well as list current job openings online through a Career Center For example, students can find UP jobs posted on the University of Portland job board. Talk with an academic advisor about internships in your major. Even an unpaid internship should be considered if it will give you a unique opportunity to build your resume and earn credit.
Remember that in order to be able to be hired while at college, you will need to have the necessary identification paperwork required for completing Form I-9 and Form W4. These documents can be your original (not a photocopy) birth certificate or social security card plus a state driver's license or photo ID. You can also provide a valid passport.
College Graduation Rates
Earning a bachelor's degree is the primary goal of most college students. How likely are you to graduate in four years? How about in six years? You can compare graduation rates of colleges and universities to help you determine the average time it takes to graduate. This is also an important factor to consider in what it might cost you to complete your degree.
Each school—whether it is a small liberal arts private school or a large public university—is required to publish their four-year and six-year graduation rates. Why is this important? According to a 2019 report by NPR, only 58% of students who began college is 2012 had graduated 6 years later.
You can try  to avoid that scenario by choosing a college that has a higher than average graduation rate. Typically, private schools have significantly higher graduation rates than public schools. Although a private school may cost more per year than its public school counterpart, you can actually save money in the long run by graduating in 4 years.
In addition to graduation rates, colleges also publish their freshman (first-year) retention rates. These numbers are also valuable for your college decision because they help reveal how well each college supports their students and how many freshmen enjoy their experience at the college and return for their sophomore year.
Have a Backup Plan
College applications start in the fall of your senior year in high school, and your final decision of where to attend college needs to be made by Decision Day, which is May 1st. When you start applying to colleges, you may not know your first choice of school—and that is normal. The important thing is that you have considered and found several schools that are potentially a good fit. 
Even if you have already decided on a college, it is important to apply to more than one school so that you have a backup plan if you don't get accepted to your first choice. Even if you do get accepted, unfortunate issues can arise. You may not get enough scholarship or grant money in your financial aid package to make attending feasible. Many students find that their second choice was even better than they expected it to be, once they get over their disappointment regarding the first choice of school. 
Hopefully, you have applied to a range of "reach" schools, "match" schools, and "safety" schools. This is a wise plan that will give you the most options for making your final decision. In the meantime, keep learning about the schools on your list and be sure to maintain careful notes about each college.
Which College Should I Go To?
Choosing a college is a big decision, one that requires a great deal of research and careful consideration. Don't feel like you have to make the decision alone. Share what you have learned about the colleges you are considering with your parents, guidance counselor, mentors, and close friends. Ask for their feedback and keep an open mind. 
Each college will have its own list of pros and cons. Organizing a pro/con list can be helpful in making your final decision. If you are struggling to decide between two or more schools, making a weighted pro/con list may help you decide. Visualize how well a school "scores" in a particular value category, such as extracurricular activities—and then give weight to the values that mean the most to you. Make your decision and then sleep on it. Do you still feel good about your decision the next day? Do you wake up wishing you had chosen the other school? If so, think about the decision some more.
Thank you for your interest in the University of Portland. We invite you to visit our campus and consider all that the University of Portland has to offer. Graduating from high school is an important achievement with exciting opportunities, and we wish you the best in your college decision process.