Information for Families of New Students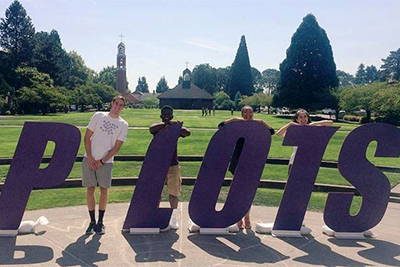 Orientation is an important time not just for students, but for families, too. To help ease the college transition for new students and their parents, grandparents, spouses, and other family members, we've put together this list of resources. 
Hotels and Local Accommodations — Several hotels in the area offer discounts to UP visitors. Please note: All incoming UP students are strongly encouraged to stay on campus in their dorm rooms during Orientation Weekend. This is an excellent opportunity to start building relationships with the student's new roommate as well as new hall mates!
FERPA — The Family Educational Rights and Privacy Act (FERPA) affords students certain rights with respect to their education records. In our efforts to adhere to FERPA guidelines, University of Portland administrators will not release certain information to parents without the submission of authorization from students.
Pilot Speak — Welcome to the University of Portland! Now that you are officially a Pilot, you'll need to know the lingo. If someone asks to meet you at the Pilot House after class in BC Aud or to go to Espresso UP the day after Founder's Day, you'll know what they're talking about!
Transit and Travel — There a lots of ways to get around Portland. Whether you're traveling by car, bus, bike, or taxi, it's easy to get from Point A to Point B. 
FGEN — Please visit the Shepard Academic Resource Center page to learn more about FGEN resources at UP.
Information Services (IS) — IS provides assistance for all things technology-related at University of Portland. Contact the Help Desk (help@up.edu or 503.943.7000) for support for computing, networking, web services, telecommunications, technology help, and media services, or stop by the Help Desk in Franz Hall 112. 
Consumer Information Report/Disclosures — The University of Portland's consumer information reports that are available upon request from various University of Portland offices.
First-Year Parent Resources — The Shepard Academic Resource Center strives to provide relevant information and resources that will help you help your student have a successful first year. Throughout the academic year we will post monthly newsletters, articles and issues to help you get a sense of what is going on in the life of your student. We welcome your questions and calls. Please contact us at 503.943.7895, sarc@up.edu.