Students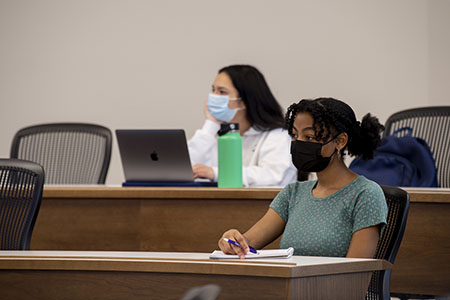 The Core Curriculum is the one academic experience that all University of Portland students share regardless of majors or professional interests. While much of the Core will and should overlap with majors, minors, and activities outside the classroom through student life, the Core itself is a significant part of what makes a UP education distinct. The Core provides students a foundation in the liberal arts, oriented by the particular history of UP and by the needs of the world, as part of our mission to educate the whole person: head, hands, and heart.
Most UP students will take the majority of their Core classes during their first and second years, though Core classes can be taken at any time prior to graduation. Starting in the Fall of 2021 all new first years students should start their Core experience with the 1-credit Anchor Seminar. New students will also usually start taking some of the 33 credits required at the Foundation Level which are distributed across the six Core Habits.
After making progress on Foundation Level course work, students should then take 6 credits of Exploration Level courses which further develop select Core Habits. (Note: formally designated Exploration courses will start being offered in the Fall of 2022, though prior to that point related courses can fulfill Exploration Level requirements with permission from the Core director). Exploration Level coursework will often be undertaken as students begin to focus more on coursework for majors and minors.
As students complete their UP education and undertake major capstones, there will be opportunities to integrate learning from the Core with other academic experiences. The Core provides students with breadth and a shared academic experience in the liberal arts, while majors and minors offer more specialized knowledge, skills, and values. When put together, students leave UP with the dynamic education needed for leading meaningful and productive lives in our diverse world.
Transferring Credits to the Core
For first year students hoping to transfer Advanced Placement credits, International Baccalaureate credits, Dual Enrollment/Running Start classes, or other college-level courses to fulfill Core requirements, see information about transferring credit to UP through the Office of Admissions.
Traditional transfer students who do not begin as first-year students at UP should also review information about transferring credit to UP through the Office of Admissions. Transfer students who have earned an associate degree, or who have earned enough credits to have junior level status at UP, may qualify for a block transfer to replace the Foundation Level of the UP Core. These students would then take an introductory Anchor Seminar course designed for transfers, and proceed to the Exploration Level of the UP Core. Transfer students with less than junior status can transfer credit on a course-by-course basis according to the requirements of each Habit of the Core at the Foundation Level. Course level transfer credits need to be approved based on transfer equivalencies, but do not necessarily need to be exact replicas of the UP courses as long as the courses have a liberal arts orientation befitting the intentions of the UP Core Habits. In most cases, these transfer students will complete Exploration Level coursework at UP. Transfer course equivalents are managed by the College of Arts and Sciences and professional schools in coordination with the Office of Admissions, the Registrar, and the Core director. Information about transferring to UP is available through the Office of Admissions.
Pre-2021 Entry
Students who entered UP before the Fall 2021 semester—either as first-year students or transfer students—will be required to fulfill Core Requirements as published in the 2020-2021 Bulletin.
These requirements include 3-credit hours each of fine arts, history, literature and mathematics; six credits each of philosophy, science, and social sciences; and 9 credits of theology.