Bauccio Lecture Series
The Bauccio Lecture Series is made possible through the generous support of alumnus and entrepreneur Fedele Bauccio '64, '66 MBA. As CEO and cofounder of Bon Appétit Management Company, Fedele's leadership and vision have brought sweeping and positive changes to the entire spectrum of the food service industry. And it is this same energy that has infused Fedele's long association and commitment to the University of Portland. For the last twelve years, the Bauccio Lecture Series has brought leading visionaries to campus to speak about their experiences. 
Past Bauccio Lecture Series speakers include:
Dan Wieden, Co-Founder & Chairman of Wieden+Kennedy
Wendy Collie, President and CEO of New Seasons
Kent Lewis, Founder of Anvil Marketing Agency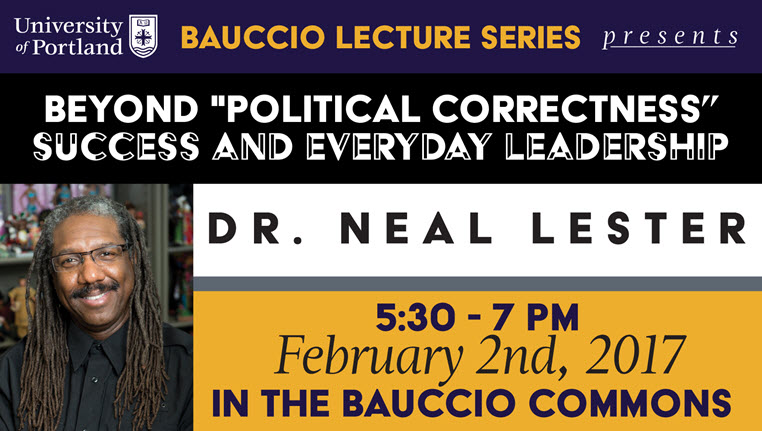 Dr. Neal Lester is a Professor of English at Arizona State University and Founding Director of Project Humanities. He has published 8 scholarly books and nearly 30 scholarly essays. He has lectured internationally in countries such as China, Russia, South Korea, Ghana, Italy and Pakistan.
"His work as director of Project Humanities spans from research on the idea of hair in race and gender politics to teaching students and the community about the N-word, all while making time to present his knowledge in a connecting and honest way that brings people of all races, genders and economic situations together.
Dr. Lester has received awards from organizations as diverse as Phi Beta Kappa, the East Valley NAACP, Association of Departments of English, Invisible Heroes and Arizona Humanities, as well as a commendation from His Holiness the Dalai Lama." - The State Press, Joey Hancock 2015.
We are honored to have him come to our campus to connect with our students, faculty, staff and community at large on February 2, 2017. His keynote is free for all to attend in the Bauccio Commons from 5:30pm to 7pm.