Fedele Bauccio '64, '66 MBA partnered with World Central Kitchen to Feed Those Aboard the Quarantined Grand Princess Cruise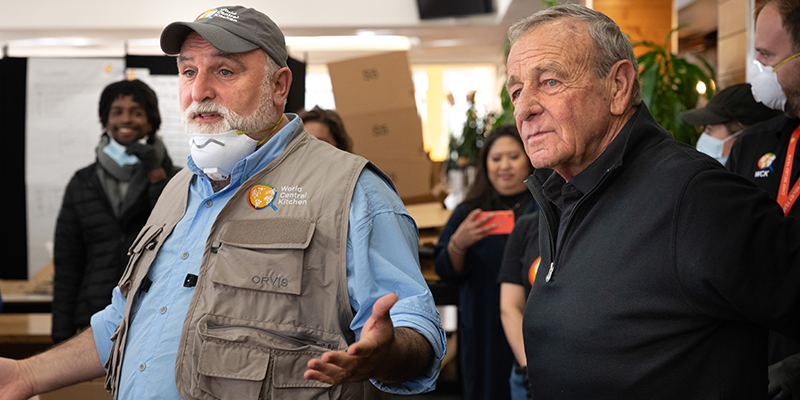 World Central Kitchen founder José Andrés (L) and Bon Appétit CEO Fedele Bauccio (R) address the group of Bon Appétit and WCK volunteers.

Photos by: Bart Nagel Photography
After the news broke that the Grand Princess cruise ship was quarantined off the coast of California due to a COVID-19 outbreak onboard, Fedele Bauccio '64, '66 MBA got a telephone call.
It was José Andrés, founder of World Central Kitchen, the disaster food relief NGO.
"Can you get me a kitchen?" Andrés asked. 
Fedele Bauccio, founder and CEO of Bon Appétit Management Company, provides sustainably-sourced corporate and university food services in more than 1,600 locations nationwide, including University of Portland, and including the Marketplace Café at University of San Francisco, whose students happened to be on spring break when the Grand Princess crisis occurred. That meant there was space in the kitchen to work.
Bauccio confirmed that indeed he could get Andrés a kitchen, and the operation to feed the 3,500 passengers and crew began. 
Within 12 hours of that phone call, the kitchen and food production were up and running in the Marketplace Café at USF, with World Central Kitchen staff and more than 12 to 30 Bon Appétit associates on site each day, creating and packaging daily meals for the 3,500 individuals on the ship. The assembly line included staff and volunteers from around the Bay Area. The chefs were responsible for cooking and handling the food, but drivers and executives and all manner of Bon Appétit team membership took part in the packaging and delivery. It was all hands on deck.
Food Can Change the World
With a core shared belief that food can change the world, Bauccio and Andrés have been partners before.
Depending on the crisis and food relief needs, sometimes World Central Kitchen needs chefs. Sometimes they need contacts in a supply chain. Sometimes they need funding for operations or hardware such as water sanitation equipment.
Because Bon Appétit's founding mission is about giving back to the community through food, Bauccio says that he only has to put the question out to his people, and the volunteers always come, people always step forward.
"Our people step up," Bauccio said. "It's part of what we do. We bring people together, putting the right food into people's bodies. I am really lucky." 
In recent years, Bon Appétit chefs have helped with hurricane relief in Puerto Rico, floods in Nebraska, and fires in California. 
All told, the Bon Appétit-World Central Kitchen partnership made about 50,000 meals for passengers and crew of the Grand Princess cruise. They initially thought they'd need to bring the food over by helicopter—but the ship eventually docked in Oakland, and they were able to truck the food over and use a forklift to get the meals onboard.
The meals included the fresh ingredients Bon Appétit has built its reputation on. On the menu were salads, jumbalaya, and soy-glazed salmon.
"You wouldn't believe the notes I got from people saying, 'This is the best food we got,'" Bauccio says. 
Safety First
In spite of his willingness to help, Bauccio remains very cautious about safety protocols, sanitation, and protecting his workers.
"I was scared to death," Bauccio says of potential proximity of his workers to those affected by COVID-19. "I worked to make sure our own people would be safe." He was quick to make clear that none of his workers stepped foot on the ship.
As the effects of the virus on our society unfold, Bauccio has continued to explore options for using Bon Appétit-run kitchens to make food for people who need it. At the University of Chicago, the output is up to 225,000 meals per week going to homeless shelters and food-insecure communities.
But safety continues to be his top priority. "The issue for me is protocol. I want to be sure our people are safe and come back with no harm."
Larger Impact
With the need for social distancing, the pandemic has hit the food services industry hard. At universities, most students have been sent home, and only a fraction remain. At corporate campuses, such as Google and Twitter, where Bon Appétit runs food services, many people are working from home. Bon Appétit was about to open 13 new sites at the Metropolitan Art Museum in New York City when closures began.
Bauccio has had to make some difficult decisions, including furloughs and salary cuts to the top tier.
It has been painful to furlough so many of his employees—before the crisis Bon Appétit employed approximately 25,000 people—though he has maintained their health benefits and intentionally used the furlough option so that workers would be able to get unemployment immediately. The intention is to hire them back once we can begin to return to normal. 
And as a company with a philosophy that sources food locally, he has been monitoring his connections with local farmers at this time too. "We're trying to give them as much business as possible," he says.
Right now, aside from a morning walk, Bauccio pretty much spends his days on the phone—he is doing his part to maintain social distancing, while he tries to find ways to weather this storm.
The nature of his phone calls these days are largely about finding work for his people while finding ways to give back to the community, provided he can keep his workers safe. He knows that if he puts the word out that there is a need—the way he did when the Grand Princess was quarantined—that members of his team will raise their hands. 
"Doing these kinds of things strengthens the culture of a company. We're like a family at Bon Appétit," he says. "That family comes together."