#PilotsGiveBack
Together we all add UP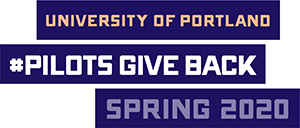 With the outbreak of COVID-19, UP wants to focus on #PilotsGiveBack, a celebration of what it means to be a Pilot — on what service, leadership, and faith mean in the face of great challenges. 
In the days ahead, we will collect stories and photos and share them with you. We will also bring you thoughtful prayers and ways to connect with your faith during this Lenten season.
While we all need to be apart right now, our stories, reflections, and actions can bring us together. Tell us what you and your fellow Pilots are doing to help. Share a story that will warm our community's hearts.
Share your #PilotsGiveBack story.
Resources for the UP community
Ways to Help