Nurse Leader Staffs Health Facility to Care for People Experiencing Homelessness in King County, WA
In a matter of mere weeks, the government of King County, WA, completed the construction of a new public health facility—two massive white tents with ventilation, a wireless network, adjacent showers and sanitation and 140 beds in individualized spaces—for the purposes of COVID-19 assessment and recovery. The facility is located on a soccer field in Shoreline, WA, just north of Seattle, and it opened on April 12, Easter Sunday. The goal has been to provide assessment and care for those who cannot otherwise self-isolate, primarily individuals who are homeless or living in a shelter situation.
The nurse leader who stepped up to staff these facilities is double UP alumna Jennifer Graves, the regional nursing executive of Kaiser Permanente Washington.    
After a phone call with King County's director of public health, Graves was asked if she could staff the facility around the clock with licensed nurses and medical assistants. Public health would provide mental health, addiction medicine, and social work support. The goal was an opening date in three weeks. No small task. 
"I didn't hesitate," says Graves, and she immediately reached out to her human resources and labor partners to see if they would be on board. When the unions agreed to support the effort, she reached out to see if her staff would be interested to volunteer—they would be paid, but participation would need to be voluntary. 
"I didn't know if we'd get zero or if we'd get five people, but we had over a hundred people reach out in the first few days saying, 'We want to do this.'" Many are doing this work on top of their usual hours; some are doing this instead of other work that may have shifted because of COVID-19. "The way that our staff has responded has been truly awe-inspiring," she says.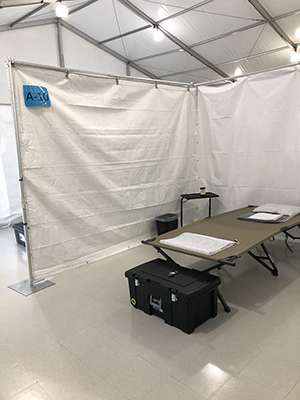 With staff on board, Graves had to set her sights on operations, safety for patients and staff, and coordination—how would one shift report out and hand off to another, what should the balance of the expertise be on any given team, and what staff will work where.
Operational and safety procedures are the core and substance of Graves' leadership career in nursing—she has decades of experience in running hospitals and improving their processes for care—though she's never had to implement these processes in weeks or in tents on a soccer field or during a pandemic. 
This structure—not to mention the circumstances and the nature of the COVID-19 virus—present unique challenges to operations. The spaces are congregate living situations—meaning these aren't individualized closed-door hospital rooms where everyone has their own sink and bathroom. The bathrooms and showers are instead located in trailers outside of the tents. So there were processes that need to be ironed out to keep everyone safe in this transitional care setting.   
Each tent, which can treat up to 70 patients at a time, has a specific role. One is for assessment—for people who have COVID-like symptoms and need a test. Individuals can be referred from a shelter, from a hospital, or from a representative in public health, and they can get a COVID-19 test and stay in this facility until they receive their test results, which could be anywhere between one to three days. The second tent is the recovery center, for people who have tested positive for COVID-19; they might be recovering from acute hospital care, but they do not have a place where they can go to quarantine. 
"We're going to keep them there as long as they're needed," says Graves. "We have witnessed in the general population here what everyone is referring to as a flattening of the curve of disease burden. What we've also noticed in doing this work is that COVID-19 may be hitting different populations at different times, and so we're seeing it now impacting our homeless and sheltered populations just a little bit later than it hit other groups in our community. We're all committed to keeping these structures up as long as the community needs them."
On their first open Saturday, they admitted 11 people.
While this project has taken around-the-clock focus to prepare, Graves finds the work and community partnerships inspiring. "While it has taken an immense amount of energy, it has also given me total hope… None of [these staff members] have ever done care like this before. This spirit of learning and togetherness and caring for others absolutely keeps me very inspired. I'm focusing on all of the silver linings in this terrible crisis. So many silver linings, so many beautiful things that people are doing for one another. That absolutely keeps me inspired and moving forward every day."
Thank you, Jennifer Graves, for leading with your head and your heart toward the greater good of our community. We are in your debt.