Student volunteers continue to bring joy to hospitalized children during quarantine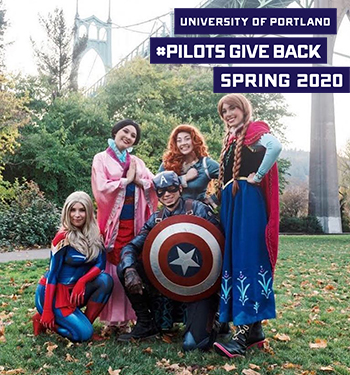 A visit from a Scottish princess with her wild red curls and her ready bow and arrow could be just the thing to brighten a child's day, especially a child who may be experiencing a hospital stay.
And if the child would prefer a visit from a superhero, well, that would be just fine. There's a volunteer ready to don a red suit and gold bangles too.
A Moment of Magic, the national foundation that creates the opportunities for these bedside visits, has a robust, 60-member chapter here at University of Portland. And UP students have continued to bring joy to children, even during COVID-19.
The hospital visit may need to be on a screen right now, but rest assured, if a child wants a visit with a princess or superhero, the princess or superhero of choice will come. (There are 50 characters in the lineup.)
"We are doing our best to provide tons of creative programming and activities virtually for these kids," Shannon Grady '20, UP chapter president, said. "Our goal is to ensure that children going through some difficult times can always have joy and time to play." 
UP students are signing up for hotline calls, where kids can interact with characters who host craft times, read stories, or even teach basics of a new language. The organization is even implementing a new campaign called "wonder wheels," where characters will be driven around to neighborhoods to visit children from a safe distance.
"In a time like this, every child is going through something that can be kind of strange and scary, so we want to just be able to make their day a little brighter if we can," Grady said.
The UP chapter currently works with Randall Children's Hospital, Doernbecher Children's Hospital, Providence Center for Medically Fragile Children, Ronald McDonald House Charities Oregon and SW Washington, and Make a Wish Oregon.
"The kids we see are often undergoing something more challenging and scarier than anything we may ever know," Grady said. Still, she sees how, in spite of these challenges, children are resilient and joyful. "I have seen smiles that can light up a room, and for that moment, I know that I have made their day."
More information about the UP chapter can be found on the A Moment of Magic website and the A Moment of Magic University of Portland Facebook page. Students wanting to participate in the UP chapter can reach the group at amom.portland@gmail.com.