Pamplin School of Business awarded Seven Seals Award
Business
June 7, 2017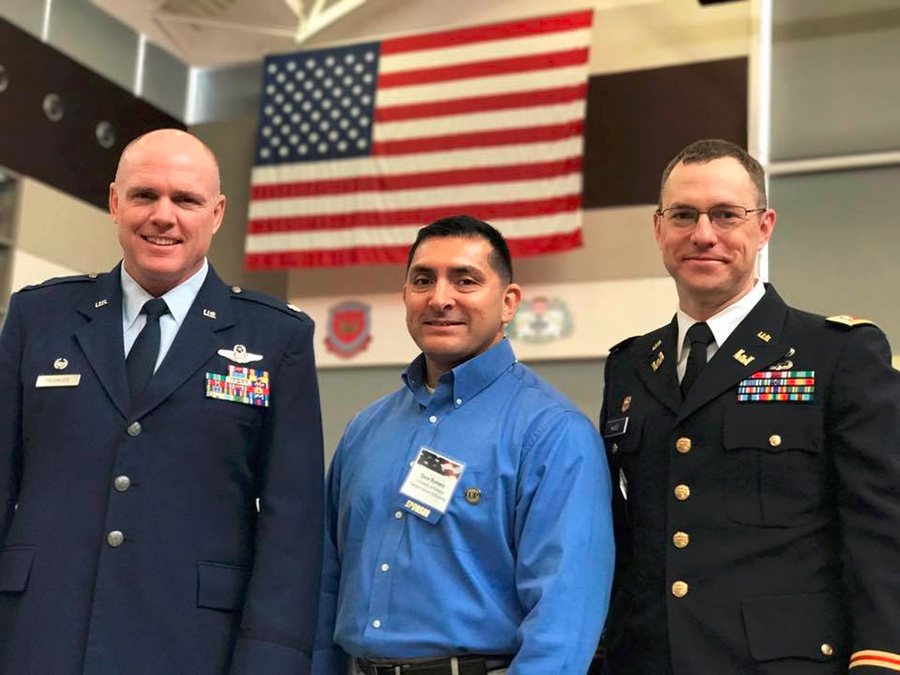 [photo, left to right: Lt. Col. John Prigmore, Oregon Air National Guard; David Romero, Army ROTC, University of Portland; and Lt. Dennis McGee, Professor of Military Science, University of Portland]
The University of Portland's Pamplin School of Business has been awarded the Seven Seals Award for their support of military personnel.  Robin Anderson, dean of the Pamplin School, and Dave Romero, director of the University's Air Force and Army Reserve Officer Training Corps (ROTC), accepted the award at the Northwest Military Employer Summit on Friday, June 2 at Camp Withycombe in Clackamas, hosted by the Pacific Northwest Defense Coalition (PNDC).
The Seven Seals Award is the broadest and most inclusive award given by Employer Support of the Guard and Reserve (ESGR) and is presented at the discretion of the state chair or by ESGR senior leadership. The award is presented in recognition of significant individual or organizational achievement, initiative, or support that promotes and supports the ESGR mission, to include the efforts of the more than 4,500 volunteers who carry out ESGR's mission across the nation on a daily basis.
"I am honored to accept this award on behalf of the Pamplin School of Business," said Dean Anderson. "Our faculty and staff are committed to ensuring our veterans, many of whom take advantage of the opportunities we make available to pursue advanced degrees in our graduate programs, are successful."
The Pamplin School of Business has been committed to supporting its military and veteran community. With a recent partner launch with Vetwork PDX, a Portland-based group offering networking opportunities for veterans, the Pamplin School is building on its current efforts of providing resources for its students. Hosting alumni lunches, focus groups, and building digital campaigns are just some of the ways the business school provides resources for the military community. The Pamplin School also works with the Oregon Department of Veteran Affairs by participating in its Veteran Benefit Expo and will sponsor its upcoming 2017 event on Saturday, July 15 in Redmond.
In addition, the Air Force and Army Reserve Officer Training Corps (ROTC) programs at the University of Portland provides military education, management, and leadership opportunities while completing a bachelor's or master's degree. The University traditionally subsidizes scholarship winners with free room and board and remaining tuition and fees.
For more information, visit https://business.up.edu/veterans-community