Emma Martinez '18 receives national award for work in immigration and social justice
Awards and Rankings
Social Work
October 5, 2017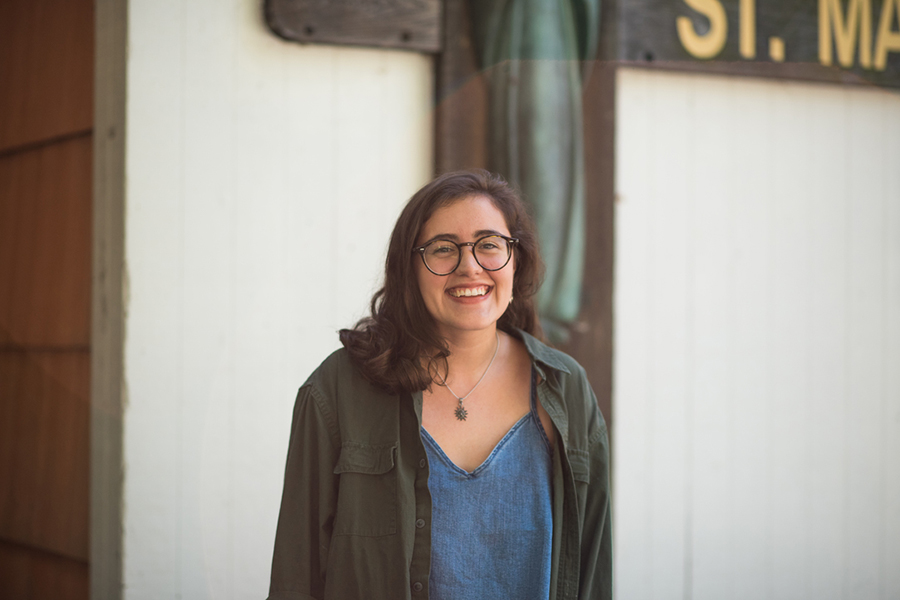 The Association for Community Organization and Social Administration (ACOSA) recently recognized University of Portland student Emma Martinez '18 with the prestigious 2017 Outstanding Student Award, given to students majoring in social work who are making a difference in their community.
Martinez, a resident of Pasadena, California, was nominated by Dr. Alice Gates, associate professor of sociology and social work, who will receive the award on Martinez's behalf on October 21, 2017 in Dallas, Texas.
"Emma's commitment to community change is evident in her strong record of service and engagement with community organizations and campus groups," stated Dr. Gates. "Over the past few years, I have really seen Emma grow in her knowledge about the issues at hand and I have seen her grow into leadership roles in the community. She is truly an outstanding student on a path to make a big impact in the community organizing world."
Martinez gained an interest in social work from her family who taught her the philosophy of always "caring for others." This teaching has carried through to the present as she has used this lesson in all of her work.
"This means a lot to receive this award, and I feel incredibly honored that my social work professors nominated me for this," stated Martinez. "It feels weird getting this kind of attention, but I mostly just want my parents to have this moment of pride because they are the ones who have supported me throughout all of my education.
"The most recent big takeaway from the work I've done so far is that it takes a united front of people working together to fight for serious change," she added. "There is so much more work to be done."
Martinez's contributions have occurred in multiple arenas, but they have focused centrally on issues of immigrant rights, racial justice, and equity concerns in the wider Portland area and in the campus community.
She is currently completing her senior year practicum (480 hours) with the organization Enlace, a multiracial alliance that strives for racial and economic justice. She also serves as the liaison to the Portland Immigrant Rights Coalition (PIRC), a volunteer-led organization which is creating an urgent responders' network in support of undocumented immigrants and their families, where she has taken on multiple responsibilities.
Martinez serves as a member of the Leadership Team at CAUSA Oregon, Oregon's immigrant rights organization and had previously worked as a volunteer intern as a part of their New American Voters Project, where she assisted newly naturalized citizens to register to vote and learn to engage in the political process.
Her interest in racial justice and equity was also expressed through her participation in a community-based research and advocacy project which involved interviewing low-income immigrant women and women of color about their experiences of needing paid time off to care for themselves or a family member. She assisted in conducting interviews, accompanying Dr. Gates to present to community organizations, and analyzing data, all of which was translated into legislative testimony in support of a bill introducing Paid Family/Medical Leave in a State House Committee.
On campus, Martinez has been a force for positive change around issues of racial justice and equity. She helped found a campus chapter of #blacklivesmatter and as part of this organizing conducted outreach and education to the wider campus community.
She has also worked to engage other students in community-engaged experiences through her role as a Service and Justice Coordinator, a position that leaders to facilitate off-campus experiences for students in their dorms. She interpreted this role to mean more than recruiting students for one-time service opportunities but also engaging them in social and political action by inviting them to social action events and demonstrations.
In 2016-2017, Martinez was the student co-leader for the University of Portland Border Immersion, a week-long Spring break trip where students learn about border and immigration issues by working with Borderlinks and other Tucson/Nogales area organizations.
A school that makes an impact
Martinez's work is reflective of the University of Portland's commitment to service and an education outside the classroom. The Princeton Review has ranked the University of Portland fifth in the nation among colleges and universities whose students are making a positive impact in their communities through volunteer service, on-campus engagement, and other meaningful contributions.
The Princeton Review's Impact Schools list includes 25 schools which were based on student ratings and responses to survey questions covering community service opportunities at their school, student government, sustainability efforts, and on-campus student engagement. They are also schools with the highest reported percentage of alumni with high job meaning.