Air Force and Army ROTC conduct 24-hour vigil and commemoration ceremony on Veterans Day, November 11
Awards and Rankings
November 9, 2017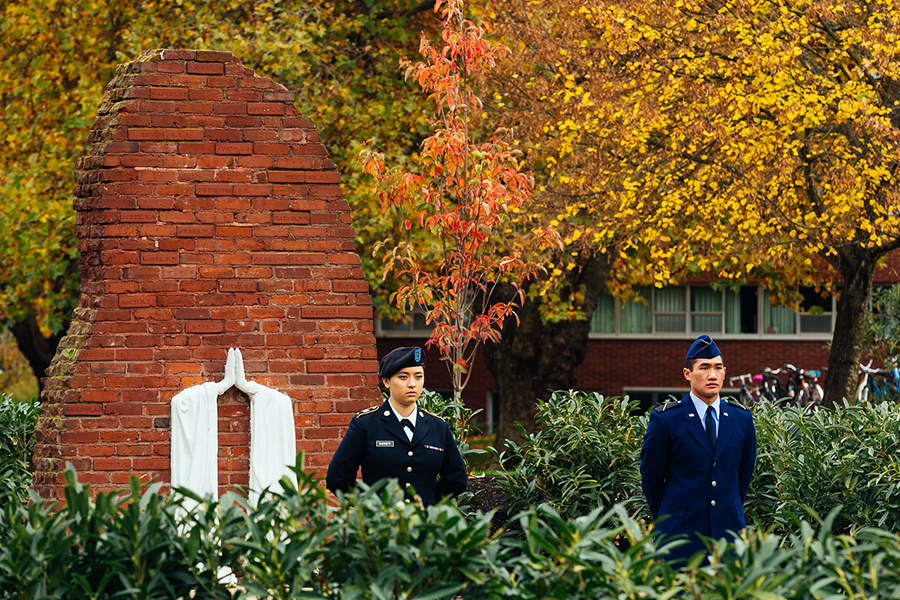 The University of Portland Air Force and Army ROTC will conduct a 24-hour vigil in honor of Veterans Day, concluding with a commemoration ceremony on Saturday, November 11, at 11 a.m., at the Praying Hands/Broken Wall Memorial on the campus's East Quad. The event recognizes campus members who have served their nation during times of war, including World War I, World War II, Korean War, Vietnam War, and Gulf War veterans.
The 24-hour vigil will begin at 11:00 a.m. on Friday, November 10, at the memorial, which honors veterans from several wars and their sacrifice for our nation. One Air Force and one Army cadet, representing the University of Portland's two ROTC programs, will stand watch over the memorial until the beginning of the Veterans Day Ceremony at 11:00 a.m. on Saturday, November 11. The timing is significant because that is when the armistice was signed, ending World War I (11:11, on November 11, 1918).
Held at the University for over 60 years, the Veterans Day ceremony will conclude with the playing of Taps and a traditional 21-gun salute to those who have fallen in the line of duty.
Maj. Gen. Scott A. Spellmon
The ceremony includes guest speaker Major General Scott A. Spellmon, Commander of the US Army Corps of Engineers Northwestern Division. Maj. Gen. Spellmon oversees an annual program of more than $3 billion in civil works, environmental restoration and military construction in more than a dozen states, primarily within the Columbia and Missouri river basins. As Division Commander, he is responsible for providing guidance and direction to five operating district commands located in Portland, Oregon; Seattle and Walla Walla, Washington; Kansas City, Missouri; and Omaha, Nebraska; with a combined professional workforce of nearly 4,800. Key missions include managing the nation's water resources infrastructure for economic growth and environmental sustainability, timely response to natural disasters, support to military installations and civilian communities throughout the region and strengthening national security.
Maj. Gen. Spellmon received his commission as a second lieutenant from the U.S. Military Academy (USMA) at West Point in 1986. He holds a Bachelor of Science Degree from USMA, a Master of Science Degree in Civil Engineering from the University of Illinois, and a Master of Science Degree in National Security Strategy from the U.S. Army War College. He is a certified Project Management Professional.
Praying Hands Memorial
The original memorial was built by the University's Class of 1948 and contained bricks inscribed with the names of the 69 University of Portland students killed in service during WWII.  Later the memorial was expanded to include other wars and conflicts in which American service members and University of Portland students served, including in World War I, World War II, Korea, Vietnam, and the Gulf Wars. The memorial now contains the names of 80 University of Portland students who lost their lives in service to the country.  Their service and sacrifice will never be forgotten.
Although some have paid the ultimate sacrifice during their service, Veteran's Day is a celebration of anyone who wore the uniform in defense of our nation.