Proxy Instructions for Parents
After students have created a proxy account by logging into Self Serve, the proxy user will receive email instructions on how to access and setup an account. Please see below for further instructions.
If you have a Comcast email:
Please note that users with a Comcast email have been experiencing difficulties using the Proxy system. While we are working on a larger solution, in the meantime we highly recommend that student provide access to an email address from an email provider other than Comcast.
Proxy User Account Setup
Step 1: Check Your Email
You will have received two emails with the subject lines below: 
 University of Portland-Proxy Access Identity Created: This email explains the steps to create a Proxy Access account. See step 2-5 below. 
Univ of Portland-New Proxy Relationship: This email contains the website you will use to access your Proxy Access account. It also includes the Univ of Portland Parents website. Please bookmark these links for easy access: Proxy Access Login, University of Portland Parents website.
Step 2: Open First Email
Open the email with the subject line
Univ of Portland-Proxy Access Identity Create. 
Select or copy into your browser the temporary link. This link is specifically for you to create a Proxy Access account. Enter the Action Password/Old PIN and click
Submit
.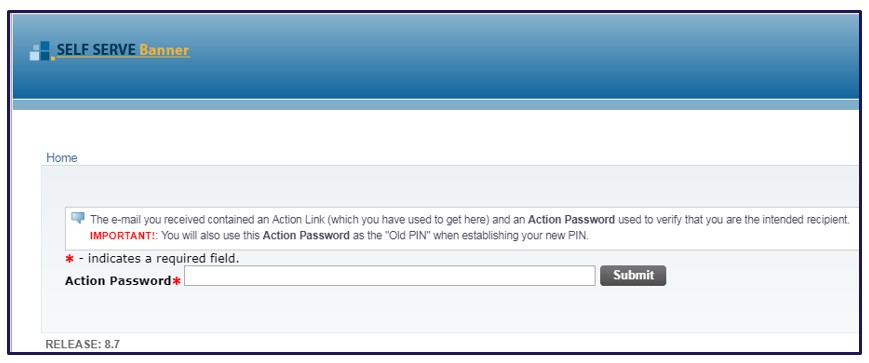 Step 3: Establish a New PIN
Establish a new PIN by entering the email address, the Old PIN/Action Password found in the email Univ of Portland-Proxy Access Identity Created, and a new PIN or password (note: the minimum length is 10 characters and/or numbers). Click Save.
Step 4: Complete the Proxy Access Profile
(Note: You may change the email used for your account name. You will receive two additional emails, one addressed to the old email and a second addressed to the new email to confirm your intent to change your credentials).


Step 5: Select the Tab with Your Student's Name
In this tab, you will find a list of Self Serve page(s) authorized by your student for your viewing. Please select the page(s) of interest. Each link selected will open a page in a new browser window. 


Step 6: Logging Out
Exiting or Logging out of Self Serve requires returning to the Profile Tab and then selecting sign out in the upper right hand corner. 
Questions? 503.943.7000, proxy_access@up.edu