Skip to Main Content
Skip to Footer
Theater & Arts
Music, Theater, and More
Oregon Symphony
For more than 120 years, the Oregon Symphony has been presenting classical, kids, pops, and other special concerts — some 80 performances a year. $10 student tickets are available for select concerts starting one week before performances.
Portland Art Museum
The Portland Art Museum's collection of 42,000 objects reflects the history of art from ancient times to today. Admission is free the first Thursday of every month from 5 - 8 p.m. and $5 on Friday evenings. College students can purchase an annual pass for $20 — the price of a single adult admission ticket.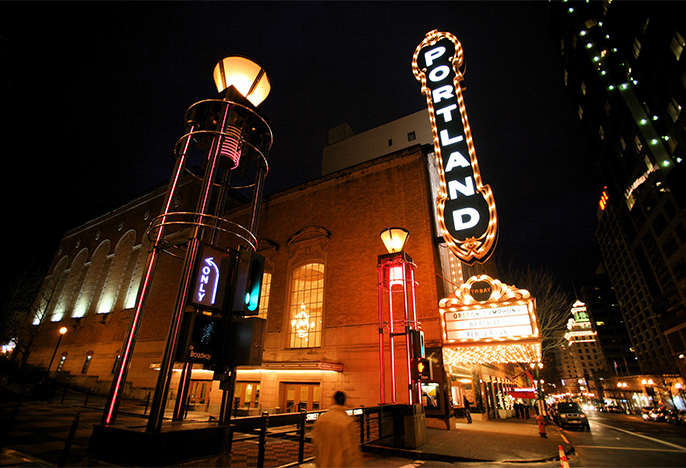 Portland'5 Center for the Arts
Portland'5 Center for the Arts includes five venues — Arlene Schnitzer Concert Hall (AKA "The Schnitzer" or "The Schnitz"), Keller Auditorium, Winningstad Theatre, Newmark Theatre, and Burnish Theatre — which host offerings from the Oregon Symphony, Portland Opera, traveling Broadway shows, concerts, and more.
Portland Center Stage
Portland Center Stage is one of the top 20 largest regional theater companies in the U.S. It stages a blend of classical, contemporary, and premiere works at its home in the Gerding Theater at the Armory. Discounted youth (ages 30 and younger) tickets are available for $25 for most shows. "Rush" tickets are available on a limited basis for $20 at 15 minutes prior to curtain time.
Portland Opera
The Portland Opera stages four productions a season. Not sure if opera's your thing? Buy "rush" tickets and give it a try: Two hours prior to curtain at each performance, students can purchase tickets for $10.
