Presidential Search Process
University of Portland Appoints Its 21st President
Dr. Robert Kelly Becomes First Lay President and African American to Lead the Catholic Institution in Its 121-Year History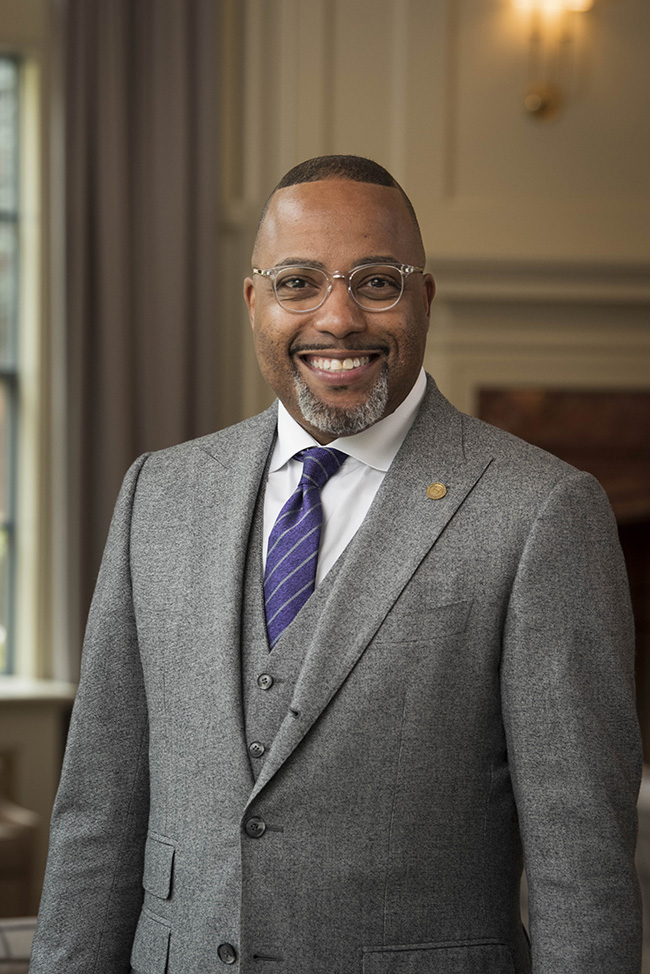 In a history-making announcement, University of Portland (UP) has appointed its 21st president. Dr. Robert Kelly, most recently Vice President, Special Assistant, and Clinical Professor at Loyola University in Baltimore, Maryland, becomes the first lay president and African American to lead UP in its 121-year history. Board of Regents Chair Thomas Arndorfer introduced Kelly to the University community during an outdoor announcement event today in front of the campus's Chapel of Christ the Teacher.
Throughout its existence, UP has been led by a Holy Cross priest from its governing body, the Congregation of Holy Cross. When announcing its search for a new president in August 2021, the Board of Regents committed to an open, national search with the goal of attracting a diverse field of qualified candidates including lay people outside of the Congregation of Holy Cross.  
"Our goal was to embark upon a thorough, patient, prayerful, transparent, and focused search that attracted a deeply qualified and diverse field of respondents," said Arndorfer. "We pursued with great passion and conviction the very best possible leader, and we are confident that we have found that person—a devout Catholic who will embrace and promote our Catholic identity and Holy Cross charism.  It is an honor and privilege to welcome Dr. Kelly, his accomplished wife, Dr. Bridget Turner Kelly, and their two children to our community."
Fr. William Lies, C.S.C., provincial superior of the U.S. Province of Holy Cross, also expressed his support of Kelly. "From the very beginnings of the Congregation of Holy Cross, Basil Moreau, our founder, welcomed all to join us in our mission of education—a work of Resurrection as he called it. We are proud to welcome Dr. Kelly now as our first lay president, and commit to working closely with him for the continuing success of this wonderful institution. May God bless him, his family, and his tenure at University of Portland."
"It is with tremendous excitement, deep humility, abiding gratitude, and profound joy that I stand before you as President-elect of the University of Portland," said Kelly, who will officially assume his presidential duties on July 1. "I am richly blessed to have the opportunity to serve and to lead UP—a truly extraordinary institution."
Regarding his ground-breaking status as the first layperson to lead the University, Kelly said, "I am humbled by this distinction and I recognize the historic nature of my selection. I come to this position after much discernment and prayer, and I do not take this responsibility lightly. I walk in the footsteps of so many wonderful Holy Cross priests and brothers who have preceded me in their service on The Bluff. And I pledge to the Congregation, and to all who call UP home, my commitment to ensuring that our Catholic, Holy Cross mission endures and thrives."
UP Regent Tim Morgan ('86) chaired the search committee that guided the multi-month process for the institution.  The committee consisted of a cross-section of UP Regents, including Holy Cross religious, administrators, and staff, working alongside Washington, DC-based AGB Search consultants. The unified and focused efforts of all involved, as well as key learnings from listening sessions across the UP community, charted the path that eventually led to Kelly.
"Dr. Kelly is a man of profound intellect, inspiring vision, and unmatched commitment to the transformative power of Catholic higher education," said Morgan. "He is devoted to principles of shared governance; to diversity, equity, inclusion, and justice; to broadening access to higher education; to building a great team of leaders and uniting them around a shared vision."
Kelly brings an extensive academic pedigree and accomplished career in higher education, much of which has been spent at Catholic and other faith-based institutions. He holds a PhD in Philosophy, Education Policy, Planning and Administration from the University of Maryland; a master's degree in Higher Education and Student Affairs Administration from the University of Vermont; and a bachelor's degree in Arts and Political Science from Loyola University Maryland. The Pacific Northwest is already familiar territory for Kelly after having served as Vice President for Student Development and adjunct professor of Education at Seattle University. His resume of other academic leadership positions also includes Chief of Staff to the President of Union College; Associate Dean of Students, and Assistant to the Vice President for Student Affairs at the University of Vermont; and Assistant Director of Residential Life at Colgate University.  
Kelly succeeds Rev. Mark L. Poorman, C.S.C., who served for 10 years at UP—seven as its 20th president. Fr. Poorman has returned to teaching, research, and pastoral duties at the University of Notre Dame.  Since July 1, 2021, Herbert A. Medina, PhD, has served as Acting President and Provost for the University, a responsibility for which Arndorfer expressed sincere gratitude and appreciation.  
"While many of us were busy shaping the future of UP, it was equally important that the present state of University operations and instruction remain on a positive, upward trajectory," said Arndorfer. "And that is exactly what Dr. Medina, the President's Leadership Cabinet and Provost's Council were able to maintain as we prepared for this monumental transition. To Dr. Medina and all University leadership, we say a heartfelt thank you."