Welcome to Campus Ministry!
Campus Ministry at the University of Portland provides opportunities for all members of the community to grow in awareness of God's presence and God's invitation to communion. For Christians this includes growing in the capacity to know, believe and live out the Good News of Jesus Christ. This flows from our grounding in the Catholic tradition inspired by the charism and spirituality of the Congregation of Holy Cross.
Need prayer? Visit our Prayer Request Page!
To learn about upcoming Campus Ministry opportunities, subscribe to our newsletter.
Campus Ministry Highlights
Our Lady of Guadalupe Mass and Social
The campus community is invited to celebrate the Feast of Our Lady of Guadalupe in the Chapel of Christ the Teacher on Thursday, December 12th. There will be a Mass in Spanish at 5 p.m. in the Chapel with a social and dinner in the quiet side of the Commons after Mass concludes. Everyone is welcome!
Christmas Break Mass Times
The Mass schedule for the Christmas break is as follows:
Sunday Mass will be celebrated at 10:30 a.m. in the Chapel of Christ the Teacher on Sunday, December 15th and Sunday, December 22nd.
Daily Mass will be celebrated, as usual, Monday through Friday until December 23rd.
The Chapel will close after the noon Mass concludes on December 23rd and remain closed until the noon Mass resumes on January 2nd.
Sunday Masses will resume with the celebration of the Epiphany on Sunday, January 5th.
The 8:00 p.m. Sunday Mass will resume on Sunday, January 12th.
Please click on the link below to see more information about our prayer schedule.
February Encounter with Christ Retreat
The next Encounter with Christ Retreat will take place February 7th-9th, 2020. This retreat invites you to join students from across majors and class years and explore your relationship with God, self, and community. Applications will be open November 25th-January 14th at the link below.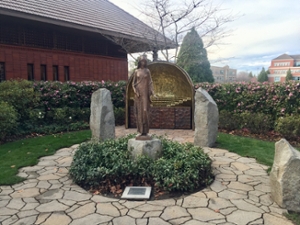 New Candle Grotto
It is a long-standing tradition in the Catholic tradition, as well as other religious traditions, to light a candle as a physical representation of one's prayers. For many years, the UP campus did not have a regular place to practice this tradition. We are excited to share that a new Candle Grotto has been installed in the Marian Garden, which was dedicated and blessed on November 24th. The grotto provides a space for members of the community to go at any time of the day or year to light a candle. As well, a purple candle will always be lit and in place, representing our prayers for the whole of the University of Portland community.
You can read more about the Candle Grotto at the link below!
Stay Connected through Engage!
Have you joined Campus Ministry on Engage? Throughout the semester, we will share about additional events happening in Campus Ministry through Engage. We hope you will connect with us!