Chapel Choir
Life is a song, sing it!
- St. Teresa of Calcutta
Music is an integral part of worship. The role of the Chapel musicians is to provide musical leadership and support for liturgical services in the Chapel of Christ the Teacher. The choir's musical repertoire draws from the rich tradition of the Roman Catholic Church as well as from other Christian traditions and cultures around the world. We invite all students, faculty and staff to assist with music at our various liturgies.
Chapel Choir
The Chapel Choir is open to all students who would like to share their musical gifts to enrich prayer at the Sunday liturgies in the Chapel of Christ the Teacher. Choir members explore a wide repertoire of music throughout the academic year, which includes Hymnody, Psalmody, Taizé, Spirituals, Folk Music, Chant, Motets, Bilingual and Cultural Music. All vocalists and instrumentalists are welcome to participate! Students can also register for MUS 246 Chapel Music Ensemble as a 1-credit course.
Every year the Chapel Choir also:
Attends an overnight retreat
Visits local parishes
Shares music ministry on tour, usually over fall or spring break
Performs at two concerts during the year: the annual "Bells in the Ballroom" Christmas Concert and a collaborative sacred music concert with the University's Wind Symphony in the spring.
Opportunities for growth in musical leadership in the Chapel Choir include serving as:
Cantors
Piano accompanists
Conducting associates
Music assistants
Would you like to be a Chapel musician? Let your light shine on campus! Contact: Maureen Briare at briare@up.edu or 503.943.7335.
You can also find more at the Chapel Music Ensemble Facebook page and on Youtube.
Handbell Choir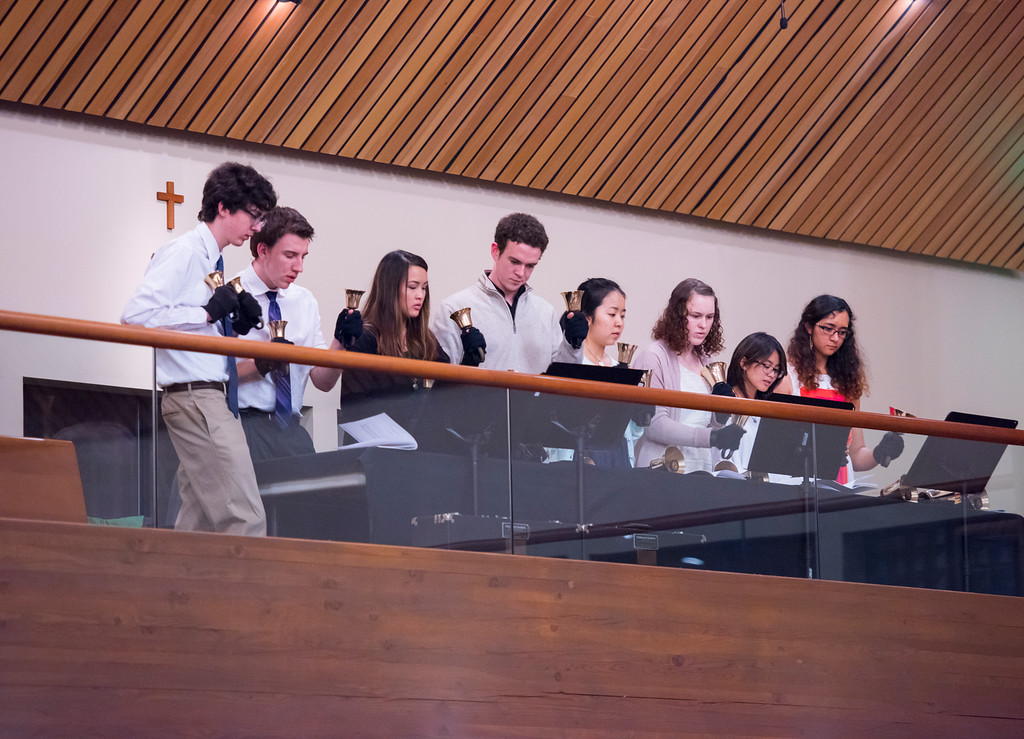 Two octaves of Schulmerich Handbells and three octaves of Malmark Handchimes make for festive and joyful ringing in the Chapel of Christ the Teacher and beyond! The Chapel Handbell Choir plays at two liturgies each month and is featured in the large university liturgies throughout the year. The Handbell Choir also tours with the Chapel Choir and is the featured ensemble in the annual "Bells in the Ballroom" Christmas Concert. A student leader coordinates the Handbell Choir under the direction of Maureen Briare. No experience is necessary to join, although the ability to read music is a definite plus.
Interested in ringing? Contact Maureen Briare at briare@up.edu or 503.943.7335. 

See the Bell Choir perform "Carol of the Bells."