Encounter with Christ Retreat
The Encounter allowed me space to open up my heart and be welcomed and loved for who I am.
– Connor Saben, Class of 2017, EWC Coordinator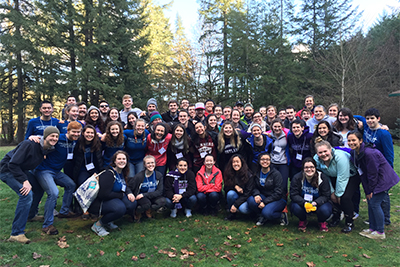 The application for the March retreat is now closed. Our next retreat will be in Fall 2020!
About the Encounter with Christ
Time to recognize how loved they truly are, space to explore their relationships with God, and the opportunity to build community with people across majors and academic years are some of the reasons the Encounter with Christ (EWC) retreat resonates deeply with so many individuals on campus.
Three movements punctuate the Encounter retreat, inviting students to reflect on:
The truth of their own lives (inward)
Their relationships with God (upward)
The way that these relationships bear fruit for others (outward)
There will be three Encounter retreats in 2019-2020, taking place in November, February, and March.
Applications* open roughly a month prior to each retreat. The application link will be available on this webpage and on our Facebook page. Listen for the announcements after Sunday Mass in the Chapel of Christ the Teacher as well as during Hall Masses. 
*We accept 36 students for each retreat. The selection process is a balancing of genders, majors, academic years, and residence halls. We give priority to students who have previously applied and were not accepted.
If you have questions about the Encounter with Christ retreat, please contact Veronicca Bathon at bathon@up.edu or 503.943.7463.