Admitted Undergraduates
Congratulations on your acceptance! We are here to help you learn about life on The Bluff and we hope you decide to make UP home. 
University of Portland Statement on admission evaluation in wake of Florida tragedy

The University of Portland is committed to the Catholic social justice tradition and advancement of the common good. We value community engagement and service and instill in all our students an intellectual foundation and the practical experience to live in ways that promote individual fulfillment and commitment to the world's human family. As a part of the admission process, we consider each application individually and look for those who reflect this type of social and personal responsibility. Typically, an applicant's participation in a peaceful protest is not cause to deny admission to the University.
See Why Current Pilots Chose UP
Devan Freeman - Class of 2020
Nursing, Political Science minor
"I decided to enroll at UP because of the welcoming community, beautiful campus, and the fantastic nursing program. Choosing the University of Portland was definitely the right choice for me."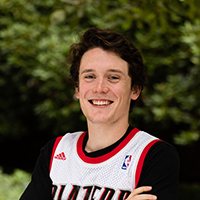 Grant Ainsworth - Class of 2019
Finance and Accounting
"I love the size of UP and the culture that it provides."
Enya O'Kane - Class of 2018
Biology, Fine Arts minor
"UP provides a community that fosters love, community, and individuality."
Office of Admissions is open Monday-Friday, 8 a.m. to 5 p.m.