Weekend on The Bluff: April 7, 2018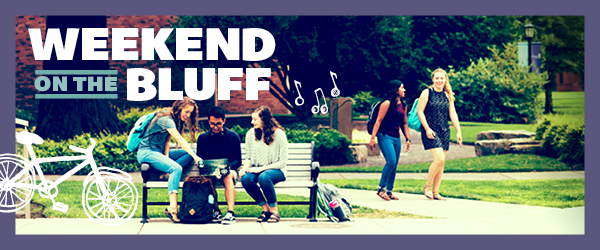 Weekend on The Bluff is a special event each April for accepted students and their families. Meet professors and spend time with current students, tour campus, visit residence halls, discuss financial aid opportunities, explore extracurricular programs, enjoy lunch on campus, and even spend the night. Over 65 percent of students who attend Weekend on The Bluff enroll at UP. Come meet some of your classmates for next fall!
Registration for the overnight program is full. We are no longer accepting reservations for the overnight program. The overnight program is overbooked and we are not generating a waitlist at this time. We apologize for the inconvenience and hope you will still join us for the day program.

WE ARE STILL ACCEPTING RSVP'S FOR THE WEEKEND ON THE BLUFF DAY PROGRAM!
Email Matthew Deschner with any questions about Weekend on The Bluff day program registration. Please do not email or call to request space in the overnight program. The over night program is full. 
Links
Office of Admissions is open Monday-Friday, 8:30 a.m. to 4:30 p.m.