Aracely Mejia '20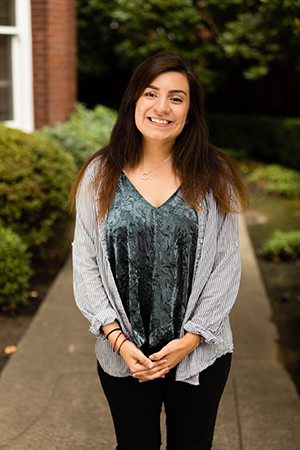 Major: Mechanical Engineering
Hometown: Bend, OR
Residence Hall: Kenna Hall
 
Why did you decide to enroll at UP?
I had lived in Portland the Summer before senior year of high school, taking a machining class at PCC. I fell in love with Portland and UP was the one that caught my eye. When I visited UP in the Spring of senior year, I was hooked!

Best memory from living in the residence halls?
My RA freshman year, Victoria, had our wing sign up to go on a hike with some Villa guys. We got lost and ended up hiking a lot longer than expected…and a few of us fell a few times. It was a nice hike though! Overall, the Kenna RAs are the best and plan a lot of awesome events J

Favorite UP activity?
I would say Pilots After Dark, any movies that ASUP show in the Buckley auditorium, and clubs on campus. I enjoy Pilots After Dark because it is a great way to get connected with the UP community in a very casual manner and just hang out with everyone. The clubs UP has to offer are so diverse and they are also a great way to get connected with people of similar interests and make some new friends!

Favorite meal served on campus?
I love the vegetarian burger options at the Pilot House!

Plans after UP?
Hopefully get my Master's degree in Biomedical Engineering and then end up with Engineers Without Boarders for a bit.

Favorite Portland area destination?
My favorite Portland spots are NW 23rd Ave (in general as there are a lot of cool food places and shops in that area) and I think Forest Park/Germantown road is amazing.

Favorite UP professor?
I love Dr. Morton, Dr. Turnbloom, Dr. Hoffbeck, and Dr. Bonfim! These professors have helped with academic and personal struggles the most throughout my time at UP. These professors were there for me when I needed them and were always so encouraging! I loved how they not only wanted me to know the material but they also wanted me to succeed. I also love having conversations with Dr. Hoffbeck about cool engineering project ideas! The UP professors I have come to know are so supportive and are great people to talk to about future career paths too.

Favorite UP class?
Although it has been a struggle, I loved Ordinary Differential Equations (MTH 321) Electric Circuits Lab (EE 271) and MATLAB (EGR 111). The EE 271 course with Dr. Hoffbeck really allowed me to get hands on experience with engineering and apply what I learned in lecture to something tangible. I also had Matlab with Dr. Hoffbeck and he made me realize that MATLAB is a really useful tool that can be applied to any future internship or project I would like to pursue. I actually use the skills I learned in those two courses the most when working on engineering project ideas outside of class. 

Favorite UP event?
Rock The Bluff for sure! It is a great time to just hangout with friends and listen to some cool artists. It is super cool that UP puts on this show for the students to just have a fun night in the Spring.