Grant Ainsworth '19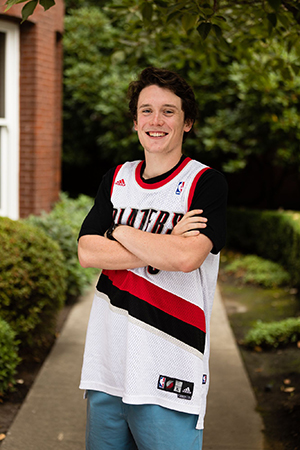 Major: Finance and Accounting
Hometown: Juneau, Alaska
Residence Hall: Shipstad Hall
Activities:
Club Ultimate Frisbee
UP Investment Association
Intramural sports
Why did you decide to enroll at UP?
I loved the size of the school and the culture that it provides. It has all of the pros of a small school (knowing your professors really well, etc.) and a larger school (a lot of purple pride, etc.). I also knew UP had a great Study Abroad program which I took full advantage of.
Best memory from living in the residence halls?
Just being able to walk down the hall every weekend and hang out with all of my friends. Living in a dorm is such a unique and awesome experience.
Favorite UP activity?
Club Ultimate Frisbee. It is so much fun being on a team while not having the demanding schedule teams usually require. 

Favorite meal served on campus?
The turkey sandwich from the Pilot House. It's so good, I'd put it up there with my mom's cooking (she's not reading this right?).
Plans after UP?
Get a dog and work full-time on my company Branching Threads back in Juneau. A dog that likes to hike and camp. I will name him/her Cliff. 
Favorite Portland area destination?
Alberta Street for sure. A great night is eating at Thai Noon or Bollywood Theatre for dinner and having Salt & Straw for dessert all in a really cool part of town.
Favorite UP professor?
Professor Bloom. She made learning fun and engaging. She also literally stopped class, looked at her phone and said: "Oh my gosh, J-Lo is dating A-Rod??" It was incredible. 
Favorite UP class?
Environmental Science. Professor Carpenter opened our eyes to our real impact on the earth. You could say I'm a "greenie" now.
Favorite UP event?
Dance of the Decades! From picking a decade costume to going downtown to seeing everyone from UP to dancing like nobody's watching, it's the best.