Pilot Success Stories
Learn more about what our current students, recent graduates, and alumni are doing - from internships and job opportunities to graduate school and volunteer experiences.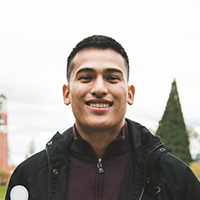 Adam Acevedo - Class of 2019
Dental School at the University of Pacific
"I knew what I wanted to do coming into undergrad so it's been a big buildup of discovering new things and being part of experiences that have helped get me here."
Hannah Mathew - Class of 2019
Rehab Aide/Office Manager at a Physical Therapy Clinic
"I am excited to get more exposure to and more experience within the career path that I am working towards. "
Erin Faloon - Class of 2019
Volunteering in Honduras
"The Moreau Center for Service and Justice and the Career Center were both really helpful in figuring out what I wanted to do next year"