Students
Education abroad is an extraordinary opportunity for students. If you find yourself asking, "Why should I study abroad?" consider these words from former First Lady Michelle Obama:
"Studying abroad isn't just a fun way to spend a semester; it is quickly becoming the key to success in our global economy... It's also about having real experience with the world beyond your borders – experience with languages, cultures and societies very different from your own." — Michelle Obama
Several studies show that the best way to improve proficiency in a second language is by studying in an environment where you have to use it.
Living abroad will help you develop a clearer sense of self, as well as confidence, maturity, and self-worth by navigating the challenges of living in a new environment.
Today's employers are increasingly mindful of the need for employees who have international experience since world markets and business are fully global endeavors.
 International educational experiences in other countries bring people of different groups together to build amity and mutual understanding.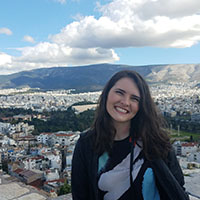 Clare Kessi - Class of 2020
B.A. Theater, Salzburg Year 2017-18
"You learn a lot about your core self when all your external stimuli change. I know I became more confident, self-assured, and independent last year. I made so many friends, some only for a day in a hostel, some that I know will be with me for life. I felt more like an adult and more like I was on The Path to my future than any other time in my life. "
Alex Peterson - Class of 2019
BBA Finance, Tokyo Summer 2017
"If you are interested in studying abroad then make it a priority. You won't regret adjusting your class schedule or taking the time to apply- studying abroad will be a highlight of college and something you'll remember forever."
Still need more reasons? Check out these links.
 Studying abroad is more than just the time you spend in your host country. To reflect that process, the student section is broken down by stages. If you're just applying or considering studying abroad, start with "Before You Go."