Ethics and Storytelling
Wednesday, February 3, 2021, 6:00-7:15pm
A free Zoom webinar featuring a panel of professionals whose work involves the dynamic, complex responsibility of storytelling.
Panelists
Oscar Leong
President, De La Salle North Catholic High School
Oscar Leong is the President of De La Salle North Catholic High School in North Portland. Previously, he served at Cathedral High School, a Lasallian Christian Brothers school in Los Angeles, which serves more than 700 young men, primarily from low-income, Latino families. In addition to being a graduate of Cathedral, he worked at the school for 26 years in various roles, including English teacher and director of development and admissions.
Oscar attended the University of California, Berkeley where he majored in political science. He is bilingual, and has both Mexican and Chinese heritage. He and his wife of 25 years, Rosa, are the proud parents of four children, the youngest of whom is a recent high school graduate.
Rhett Luedtke
Professor of Theatre, George Fox University
Rhett Luedtke is co-chair of the Department of Performing Arts at George Fox University in Newberg, Oregon. As professor of theatre, he has a special emphasis in directing and theatre history. He is the recipient of the 2016 Kennedy Center Gold Medallion for Excellence in Educational Theatre, the 2010 George Fox Undergraduate Teacher of the Year Award, and the 2010 National Directing Fellowship from the Kennedy Center American College Theatre Festival.

In addition to his nearly 30 directing credits at George Fox, Rhett has directed for many theatres across the country, including the Idaho Repertory Theatre, the Salem Repertory Theatre, the Public House Theatre, the Festival by the Marsh in New Brunswick, the Heartland Theatre in Bloomington, Ill., and Small Time Outreach Productions in Auburn, Ala.

Rhett has also directed for the theatre education programs at the Alabama Shakespeare Festival and the Illinois Shakespeare Festival. He received his BA in theatre and English from Valparaiso University in Indiana and his MFA in directing from Illinois State University. He lives in Newberg with his wife, Julie, and two boys, Isaac and Simon.
Dave Miller
Host,
Think Out Loud
, Oregon Public Broadcasting
Dave Miller is the host of Oregon Public Broadcasting's daily talk show, "
Think Out Loud.
"
Before coming to OPB, Dave was the senior producer of "Open Source," a nationally syndicated radio show based at the NPR affiliate station
WGBH
in Boston. He began his radio career as a documentary producer at
Sound Portraits Productions
and
StoryCorps
. From 2008 to 2011, he worked as the online host of the show.
His stories have aired on NPR's "All Things Considered," "Morning Edition" and "Weekend Edition Saturday."
Yvonne Simons
News Director, KATU-TV
Yvonne Simons is the news director at KATU-TV here in Portland, Oregon. She oversees content and strategy for the KATU/KUNP newsrooms. Yvonne has spent 36 years in broadcast journalism, first as a reporter and then as a news manager. After graduating from Eastern Michigan University, she began her professional career as a public school teacher before switching gears. For nearly 20 years, she was an award-winning education reporter in Champaign, IL, Norfolk, VA and Raleigh, NC. Also served as a board member of The Education Writers Association. She continued her on-air career as an anchor in Columbus, OH. Switching gears, she joined news management in Las Vegas, NV, Boise, ID, Charlotte, NC and Sacramento, CA before coming to Portland in 2018.
Yvonne is focusing her team on accountability journalism to help present news that matters to viewers, answering their questions of city, county and state leaders on multiple platforms.
Yvonne holds a bachelor's degree in Vocal Music Education and a Master of Fine Arts in Mass Communication. In 2002-03, Yvonne was named the Education Fellow at the University of Michigan's Knight-Wallace Fellowship in Journalism.
Facilitator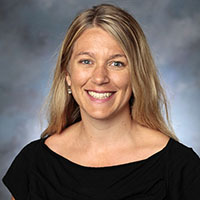 Jennette Lovejoy, Ph.D.
Associate Professor, Communication Studies, University of Portland