Recreational Services
Special Note:  The Beauchamp Recreation & Wellness Center is currently closed due to the COVID-19 pandemic.  We anticipate opening on a limited basis, in September, on a date TBA, pending State, County and University guidelines. 
Summer 2020
We are currently renting outdoor equipment and bikes Monday, Wednesday & Friday.
Catch live, on-line fitness classes taught by students.  Available to UP students, faculty & staff.  Fitness Class Information & Schedule      
Fee Policies, COVID-19
Locker rental & towel service fees paid for dates during closure will be applied to future use on a pro-rated basis.
Fees paid for alumni & spouse passes for dates during closure will be applied to future use on a pro-rated basis.
For non-continuing faculty, staff, or student spouses, a refund will be issued for dates missed during closure, upon request.
Please address any questions related to refunds to bourne@up.edu or dezzani@up.edu
---
The Recreational Services program at the University of Portland provides fitness and wellness opportunities to the UP community. With a beautiful recreation center that opened in 2015 and a growing list of offerings, we strive to be a positive influence on the physical and mental well-being of our campus community. Whether you're all-in or testing the waters, you're welcome at the Beau. 
Media:
Rec Services Self Defense class, Beacon Article
Fitness Instructors, Beacon Article
Inside Outdoor Pursuits, Beacon Article
Pilot Fit class, video by the UP Beacon.
COVID-19 has forced UP to offer online instruction in Fall 2020.  Because of the challenges of the virus and the state, county & university guidelines, we will not be able to offer some of our very popular programs in their normal format.  We traditionally offer programming in outdoor pursuits, fitness & wellness, intramural sports and climbing. Our bike shop offers short-term rentals and bike repairs. The Equipment Center has what you need for your outdoor adventures.
The Office of Student Activities works with sport clubs which are groups of students interested in playing and competing in a specific sport. They practice together and compete against other universities and clubs. Some UP sport clubs are ultimate, volleyball, soccer and lacrosse. To learn more, please contact student activities at 503.943.7470 or stuact@up.edu.
If you have a disability and require accommodation in order to fully participate in any of our activities, please contact the director of recreational services at 503.943.7177.
Follow us on Instagram: @uprecservices  @portlandintramurals  @upoutdoorpursuits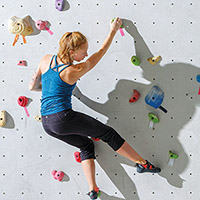 Cassidy Smith - Class of 2020
Nursing
"It's my meditation. You can't think about anything else. You have to have direct intentional focus."