Recreational Services
The Beauchamp Recreation & Wellness Center closed Tuesday, November 17th,  in accordance with State and County mandates, and will remain closed over Winter Break.  The ability to reopen in 2021 will rely upon State, County and University guidance.  Rec Services will use this website and social media to communicate any information related to the status of the facility.
Outdoor Pursuits rentals and online Fitness Classes will continue.  OPP Schedule  Fitness Schedule
When we are fully operational, Rec Services provides fitness classes, Intramural Sports, Outdoor trips & rentals, indoor rock climbing, weight lifting, cardio machines, fitness studios,an  indoor track, gyms, stretching areas and an awesome staff. 
Information below applies when the facility is open with COVID-19 protocols in place.
Heightened cleaning & safety processes are in place to meet the challenges of COVID-19.
Increased frequency of cleaning common touchpoints throughout the facility, 
Disposable cleaning wipes.
Facemasks required at all times worn over nose & mouth.
Adjusted traffic flow and equipment spacing.
Shorter facility hours with full facility cleaning between each facility session.
Reservations for free weights and Climbing Center at recservices.up.edu
Most areas do not require a reservation.
Occupancy limit of 50, from 11/11/2020-11/25/2020.
Prior to entry, please complete the online  Waiver and Liability Release
COVID-19 adaptations are in place including COVID-related questions & temperature reading before scanning IDs.  State, County and University regulations, impact facility policies.  Follow Rec Services on Facebook and Instagram, @uprecservices for updates.
Please check FAQs for addition information related to COVID-19 requirements and service changes.
Reservations are required for the free weight and climbing areas and may be made 48 hours in advance.  Make reservations here.
Outdoor equipment and rental bikes are available.  For schedule, visit our hours page.
For more information:  503.943-8748 or libby@up.edu.
Live, on-line fitness classes taught by students are available to UP students, faculty & staff.  
Fitness Class Information & Schedule    
Please address any questions related to refunds to bourne@up.edu or dezzani@up.edu
---
The Recreational Services program at the University of Portland provides fitness and wellness opportunities to the UP community. With a beautiful recreation center that opened in 2015 and a growing list of offerings, we strive to be a positive influence on the physical and mental well-being of our campus community. Whether you're all-in or testing the waters, you're welcome at the Beau. 
Media:
Rec Services Self Defense class, Beacon Article
Fitness Instructors, Beacon Article
Inside Outdoor Pursuits, Beacon Article
Pilot Fit class, video by the UP Beacon.
COVID-19 has forced UP to offer online instruction in Fall 2020.  Because of the challenges of the virus and the state, county & university guidelines, we will not be able to offer some of our very popular programs in their normal format.  We traditionally offer programming in outdoor pursuits, fitness & wellness, intramural sports and climbing. Our bike shop offers short-term rentals and bike repairs. The Equipment Center has what you need for your outdoor adventures.
The Office of Student Activities works with sport clubs which are groups of students interested in playing and competing in a specific sport. They practice together and compete against other universities and clubs. Some UP sport clubs are ultimate, volleyball, soccer and lacrosse. To learn more, please contact student activities at 503.943.7470 or stuact@up.edu.
If you have a disability and require accommodation in order to fully participate in any of our activities, please contact the director of recreational services at 503.943.7177.
Follow us on Instagram: @uprecservices  @portlandintramurals  @upoutdoorpursuits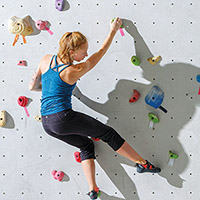 Cassidy Smith - Class of 2020
Nursing
"It's my meditation. You can't think about anything else. You have to have direct intentional focus."