Recreational Services
The Recreational Services program at the University of Portland enhances student and work life by providing fitness and wellness opportunities to the UP community.
With the beautiful Beauchamp Recreation & Wellness Center and a growing list of program and drop-in offerings, Rec Services is a positive influence on the physical and mental well-being of the University community. Whether you're already a fan of fitness and sports or you're testing the waters, you're always welcome at the Beau.
Offerings include informal fitness & recreation like weight lifting, cardio workouts on treadmills, stairsteppers, bikes, the indoor track, fitness studios, and drop-in sports like basketball, volleyball, ping pong, and badminton.  
Outdoor Pursuits Trips in the beautiful Pacific NW. Super-easy or more challenging trips to explore the region.
intramural Sports leagues in individual, dual and team sports, for recreational and more competitive fun in sports.
Indoor climbing and bouldering with staffed top roping hours and drop-in hours with bouldering and auto-belays.
Fitness classes taught by students are available to UP students, faculty & staff.  

Equipment Center has sleeping bags, tents, stoves, stand-up paddle boards, inflatable kayaks, rental bikes, and other outdoor equipment and all the things you need for your outdoor adventures.

Bike Shop with daily bike, helmet & lock rentals, and bike repairs.
---
All U.P. student, faculty & staff facility users 18 years or older, please fill out the liability release at recservices.up.edu  
Students under 18 years old, please have a parent or guardian digitally sign the BRC liability release for minors (pdf), and return all pages to dezzani@up.edu
Additional policies
Check current BRWC facility occupancy
---
Sport Clubs- The Office of Student Activities works with groups of students to form clubs to compete against other schools in a specific sport.  Some of the UP sport clubs are ultimate, volleyball, soccer and lacrosse. To learn more, please contact Student Activities at 503.943.7470 or stuact@up.edu.
If you have a disability and require accommodation in order to fully participate in any of our activities, please contact the director of recreational services at 503.943.7177.
---
Media
Rec Services Self Defense class, Beacon Article

Fitness Instructors, Beacon Article

Inside Outdoor Pursuits, Beacon Article

Pilot Fit class, 
video
by the UP Beacon.

Follow us on Instagram: @uprecservices  @portlandintramurals  @upoutdoorpursuits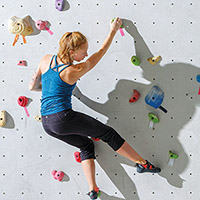 Cassidy Smith - Class of 2020
Nursing
"It's my meditation. You can't think about anything else. You have to have direct intentional focus."