Recreational Services
The Recreational Services program at the University of Portland provides fitness and wellness opportunities to the UP community.
With a beautiful recreation center that opened in 2015 and a growing list of offerings, we strive to be a positive influence on the physical and mental well-being of our campus community. Whether you're all-in or testing the waters, you're welcome at the Beau.
---

The Beauchamp Recreation and Wellness Center will reopen, Friday, February 12, 2021, with a capacity limit of 50.
Multnomah County's risk level will lower from Extreme to High on February 12th, which means that indoor recreation centers in the State can reopen.  Great news!  
Here's the skinny:
All users must fill out the liability release at recservices.up.edu  If you filled this out since September 2020, you're good-to-go!
Maximum occupancy is 50.  First-come, first serve.  Workout limit is 1 hour when others are waiting.
UP I.D. is required.  No guests are allowed.
Masks must be worn over the nose and mouth at all times in the facility.
6' social distance required, even if you live together. 
Limit 50 in the facility at any time.  Check current occupancy.
Additional entry requirements   Additional policies
Hours
---
Outdoor equipment and rental bikes are available.  For schedule, visit our hours page. 
Live, on-line fitness classes taught by students are available to UP students, faculty & staff.  Fitness Class Information & Schedule  
For more information:
Facilities, Fitness and schedules, Kaitlin Bourne, bourne@up.edu, 503-943-7294
Outdoor Pursuits, Indoor Climbing and Rental Center, Matt Libby, libby@up.edu, 503-943-7184
Program Operations, Intramural Sports, equipment, policy, website, reservations, Brian Dezzani, dezzani@up.edu, 503-943-7177
---
When Rec Services is fully operational, we offer fitness classes, Intramural Sports, Outdoor trips & rentals, indoor rock climbing, weight lifting, cardio machines, fitness studios,an  indoor track, gyms, stretching areas and an awesome staff. 
Media:
Rec Services Self Defense class, Beacon Article
Fitness Instructors, Beacon Article
Inside Outdoor Pursuits, Beacon Article
Pilot Fit class, video by the UP Beacon.
COVID-19 has forced UP to offer online instruction in Spring 2021.  Because of the challenges of the virus and the state, county & university guidelines, we will not be able to offer some of our very popular programs in their normal format.  We traditionally offer programming in outdoor pursuits, fitness & wellness, intramural sports and climbing. Our bike shop offers short-term rentals and bike repairs. The Equipment Center has what you need for your outdoor adventures.
The Office of Student Activities works with sport clubs which are groups of students interested in playing and competing in a specific sport. They practice together and compete against other universities and clubs. Some UP sport clubs are ultimate, volleyball, soccer and lacrosse. To learn more, please contact student activities at 503.943.7470 or stuact@up.edu.
If you have a disability and require accommodation in order to fully participate in any of our activities, please contact the director of recreational services at 503.943.7177.
Follow us on Instagram: @uprecservices  @portlandintramurals  @upoutdoorpursuits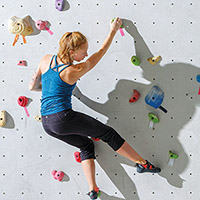 Cassidy Smith - Class of 2020
Nursing
"It's my meditation. You can't think about anything else. You have to have direct intentional focus."