Outdoor Pursuits
Special Note:  The Beauchamp Recreation & Wellness Center will open Friday, September 18th at 1:00 p.m.  COVID-19 adaptations are in place..  
We are pleased to announce that we will open Friday, September 18th at 1:00 p.m.  Entry will be slower due to COVID questions & temperature reading so we appreciate your patience. Check Rec Services' Facebook and Instagram accounts, @uprecservices for updates.
User entry will depend upon completing online Waiver and Liability Release. linked here, 
and response to COVID-19 related questions and temperature screening. 
Masks are required at all times in the Beauchamp Center, including when working out.
Please check FAQs for information related to entry to the Beauchamp Center & COVID-19 requirements and service changes.
Faculty & staff access date has been pushed back due to our reopening postponement.  The date will be two weeks after we reopen to students.  State, County and University regulations, as well as air quality, may impact opening date.
Facility Schedule
Monday, Wednesday, Friday, 11:00 am-7:00 pm
User entrance to facility each visit is dependent upon responses to COVID-19 related questions, temperature screening, and one-time completion of the Waiver and Liability Release, linked here.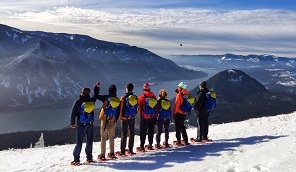 About Outdoor Pursuits
OPP consists of three main areas of operation.  These are the climbing wall, the bike shop and our outdoor trips  In addition we also offer equipment/bike rental, team building courses and first aid classes.  The OPP office and bike shop is located in the Beauchamp Recreation Center.  Outdoor Pursuits is open to all UP Students, Staff and Faculty.  
Additional Programs
Medical Classes
All our courses are recognized by the American Red Cross.  If you'd like to schedule a private course or one catered to your program needs contact Matthew Libby at libby@up.edu. The courses that we offer are CPR/AED First AID (Adult, Child, Infant), CPR/AED for the Professional Rescuer, Wilderness First Aid, Blood Borne Pathogens and Emergency Medical Responder (EMR).  Click here for our current course calendar
Team Building
Team building events are a good way to build team cohesion and bonding.  Whether you are looking to do one two-hour session to break the ice with new staff or looking to have multiple sessions to develop leaders, we can accommodate.  Please fill out the Team building Request Form to start the process or if you have more questions contact Matthew Libby at libby@up.edu. 
Stay Connected