Outdoor Pursuits
Special Note:  Out of an abundance of caution, and in conjunction with state guidelines on public gatherings, the Beauchamp Recreation & Wellness Center was closed the morning of Thursday, March 12 at 10:00 AM and will remain closed until further notice. We will take this time to thoroughly deep clean the building in preparation for reopening at a later date.
As the COVID-19 situation changes day-to-day, we are unsure when the Beauchamp Center will reopen and when our programs will resume.  Most of our services are free to University of Portland students, faculty and staff.  For those that require a fee, we will offer refunds or apply the value of services missed to future service as described below.  
Students
Outdoor Pursuits- Students will receive a refund of all fees paid for OPP Trips or classes (CPR, First Aid, etc.) scheduled to take place through April 12, 2020.  If trips after that date do not take place, we will refund students at the end of the semester.  Refunds will be sent to address on file. 
Lockers and towel service- Students will receive a refund for all locker & towel service from March 12, 2020- May 15, 2020, on a pro-rated basis.  Refunds will be sent to address on file.
Faculty & Staff 
Locker rental & towel service fees paid for dates during closure will be applied to future use on a pro-rated basis.  
Alumni & Spouse Passes
Fees paid for alumni & spouse passes for dates during closure will be applied to future use on a pro-rated basis.
For non-continuing faculty, staff or student spouses, a refund will be issued for dates missed during closure, upon request.
Please address any questions related to refunds to bourne@up.edu or dezzani@up.edu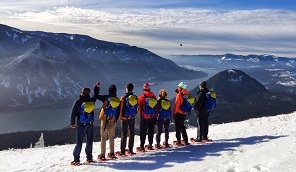 About Outdoor Pursuits
OPP consists of three main areas of operation.  These are the climbing wall, the bike shop and our outdoor trips  In addition we also offer equipment/bike rental, team building courses and first aid classes.  The OPP office and bike shop is located in the Beauchamp Recreation Center.  Outdoor Pursuits is open to all UP Students, Staff and Faculty.  
Additional Programs
Medical Classes
All our courses are recognized by the American Red Cross.  If you'd like to schedule a private course or one catered to your program needs contact Matthew Libby at libby@up.edu. The courses that we offer are CPR/AED First AID (Adult, Child, Infant), CPR/AED for the Professional Rescuer, Wilderness First Aid, Blood Borne Pathogens and Emergency Medical Responder (EMR).  Click here for our current course calendar
Team Building
Team building events are a good way to build team cohesion and bonding.  Whether you are looking to do one two-hour session to break the ice with new staff or looking to have multiple sessions to develop leaders, we can accommodate.  Please fill out the Team building Request Form to start the process or if you have more questions contact Matthew Libby at libby@up.edu. 
Stay Connected