Climbing and Bouldering
Climbing Clinics
Rock 101 - 105 Clinics
The Rock 101 - 105 clinics are designed to take climbers through four levels of progression.  Rock 101 is the initial course that is required to climb at the wall.  These are available daily.  The Rock 104 which prepares you to start lead climbing outside takes place at a nearby climbing crag. 
See our calendar for available courses.
About Our Facility
First Time Climbers
New to rock climbing and bouldering?  Before you get started at the climbing wall you need to attend a Rock 101 course first.  This class is completed in person at Beauchamp.  Head to the Outdoor Pursuits Program office to receive an orientation during the summer.  During the course you'll learn everything from how to stay safe, beginner techniques, climbing gym etiquette and our rules and guidelines.  No sign up is needed.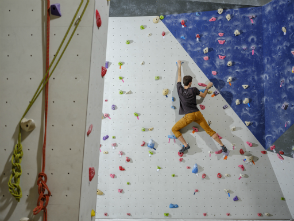 Bouldering & Auto Belay
Bouldering & Auto Belay climbing is allowed at the wall anytime Beauchamp is open.  Before you can begin you must have completed a Rock 101 course.  While bouldering solo is allowed, it's highly suggested that you bring a friend with you to help spot your falls and to climb with.
Learn to Belay
Looking to learn how to top rope or lead belay?  The Outdoor Pursuits Program in the Beauchamp Recreation and Wellness Center offers clinics to aid in your skills progression.  Here you'll learn from experienced student staff on the proper skills, techniques and methods to stay safe.
Lead Climbing
Lead climbing is allowed at our climbing wall.  In order to lead climb you need to pass our lead climbing and lead belaying test before you can begin.  If you know how to lead climb and are already certified by our excellent staff, we have lead ropes and quickdraws for you to use.  Bringing in personal quickdraws and lead ropes is not permitted.  Just as with top rope hours, you may only lead climb during the designated staff hours.
Climbing Wall Information
Harnesses, belay devices and climbing shoes are available for rent free of charge
Chalk bags are considered personal items and can be purchased at the Outdoor Pursuits Office
Personal climbing equipment must be inspected by staff prior to use
Loose chalk is not allowed at the climbing wall, chalk balls are required
Barefeet are not allowed anywhere on the climbing wall or pads
Lead ropes, quick draws and helmets are available for use free of charge, personal equipment is prohibited
Roped climbing may only occur during staffed climbing wall hours.