Climbing and Bouldering Wall
First Time Climbers
New to rock climbing and bouldering?  Before you get started at the climbing wall you need to attend a Climbing Wall Orientation first.  These orientations take place Monday- Friday during the first 30 minutes that the climbing wall is open and staffed. Here you'll learn everything from how to stay safe, beginner techniques, climbing gym etiquette and our rules and guidelines.  No sign up is needed.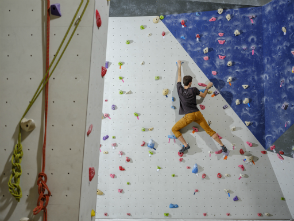 Bouldering
Bouldering is allowed at the climbing wall anytime Beauchamp is open.  Before you can begin you must have completed a Climbing Wall Orientation.  While bouldering solo is allowed, it's highly suggested that you bring a friend with you to help spot your falls and to climb with.
Learn to Belay
Looking to learn how to top rope or lead belay?  The Outdoor Pursuits Program in the Beauchamp Recreation and Wellness Center offers free top rope and lead belaying classes.  Here you'll learn from experienced student staff on the proper skills, techniques and methods to stay safe.
Lead Climbing
Lead climbing is allowed at our climbing wall.  In order to lead climb you need to pass our lead climbing and lead belaying test before you can begin.  If you know how to lead climb and are already certified by our excellent staff, we have lead ropes and quickdraws for you to use.  Bringing in personal quickdraws and lead ropes is not permitted.  Just as with top rope hours, you may only lead climb during the designated staff hours.
Hours of Operation
Spring 2019 Climbing Wall Clinics 
Top Rope Belay Orientation 6:00 p.m.- 7:00 p.m.
January 14
January 30
February 11
February 27
March 11
Lead Climbing/Belaying Orientation 6:00 p.m. - 9:00 p.m.
January 16
February 13
March 13
April 10
Special Skill Clinics
Crack Climbing 101 2/19 6:00 p.m.- 8:00 p.m.
Intro to Multi-Pitch 3/19 6:00 p.m. - 9:00 p.m.
Crack Climbing 101 3/28 6:00 p.m.- 8:00 p.m.
Intro to Trad Multi-Pitch 4/4 6:00 p.m. - 9:00 p.m.
Register at the OPP Office for one of the climbing wall clinics and classes.  Spots are limited