Trip & Program Descriptions
Trip Types
Mountain and Urban Biking
The Outdoor Pursuits Program offers both mountain and urban biking trips throughout the Fall and Spring Semesters.  These trips vary in difficulty but are always friendly for beginner riders.  As with all of our trips, the bikes, safety gear and transportation is provided, along with expert instruction from our dedicated student trip leaders.
Rock Climbing and Mountaineering
The Outdoor Pursuits Program offers rock climbing and mountaineering trips.  These include everything from sport climbing at local crags, longer multi-pitch routes at Smith Rocks and summit attempts on many peaks around the Pacific Northwest.  While the physical difficulty of trips vary depending on objective and location, there are always trips designed for the beginner.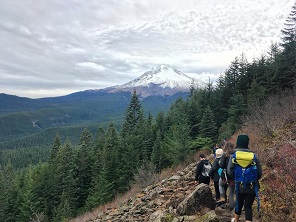 Backpacking and Hiking
The Outdoor Pursuits Program offers a wide variety of backpacking and hiking trips.  These trips range from beginner friendly day hikes meant to expose participants to the outdoors to longer multi day backpacks.  Each backpacking and hiking trip has an assigned curriculum to it, taught by our student staff, meant to educate participants.  This curricula provides students the freedom to pursue their own personal adventures and provides the confidence to do so.
Kayaking and Rafting
The Outdoor Pursuits Program offers canoeing, kayaking and rafting trips.  These trips vary from kayaking on calm flat water to rafting class 3 and 4 rapids.  All of our water based trips use local outfitters for providing the watercraft or professional instruction.  Whether you are new to water sports or a seasoned veteran there is something here for everyone!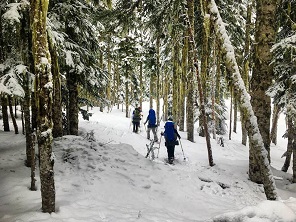 Skiing and Snowshoeing
The Outdoor Pursuits Program offers a variety of skiing and snowshoeing trips.  These range from snowshoeing to scenic overlooks, cross country skiing through the wilderness and skiing at local resorts around Mt. Hood.  These trips offer a unique opportunity to get out and experience the outdoors in a very different context.  Learn about our 
ski bus program
.