Trip & Program Descriptions
Special Note:  Out of an abundance of caution, and in conjunction with state guidelines on public gatherings, the Beauchamp Recreation & Wellness Center was closed the morning of Thursday, March 12 at 10:00 AM and will remain closed until further notice. We will take this time to thoroughly deep clean the building in preparation for reopening at a later date.
As the COVID-19 situation changes day-to-day, we are unsure when the Beauchamp Center will reopen and when our programs will resume.  Most of our services are free to University of Portland students, faculty and staff.  For those that require a fee, we will offer refunds or apply the value of services missed to future service as described below.  
Students
Outdoor Pursuits- Students will receive a refund of all fees paid for OPP Trips or classes (CPR, First Aid, etc.) scheduled to take place through April 12, 2020.  If trips after that date do not take place, we will refund students at the end of the semester.  Refunds will be sent to address on file. 
Lockers and towel service- Students will receive a refund for all locker & towel service from March 12, 2020- May 15, 2020, on a pro-rated basis.  Refunds will be sent to address on file.
Faculty & Staff 
Locker rental & towel service fees paid for dates during closure will be applied to future use on a pro-rated basis.  
Alumni & Spouse Passes
Fees paid for alumni & spouse passes for dates during closure will be applied to future use on a pro-rated basis.
For non-continuing faculty, staff or student spouses, a refund will be issued for dates missed during closure, upon request.
Please address any questions related to refunds to bourne@up.edu or dezzani@up.edu
Difficulty Levels
Easy: Relatively low to moderate physical activity; no previous experience needed.
Moderate: Moderate physical activity and/ or more difficult terrain. Some previous experience is helpful.
Hard: Good physical conditioning required. Likely will include challenging terrain and/ or environmental conditions. Previous experience or technical knowledge is strongly encouraged.
How to Sign Up
Phone: Call 503.943.8748 to register and pay for trips and programs over the phone.
In Person: Visit the Outdoor Pursuits Office in the Beauchamp Center to sign up in person.  
Online: Registrations for programs that are free can be done online. Visit recservices.up.edu to sign up.  
Classes & Trips
All of our trips for the semester have concluded.  Check back in May for opportunities to get outside during the summer semester.  
Trip Types
Mountain and Urban Biking
The Outdoor Pursuits Program offers both mountain and urban biking trips throughout the Fall and Spring Semesters.  These trips vary in difficulty but are always friendly for beginner riders.  As with all of our trips, the bikes, safety gear and transportation is provided, along with expert instruction from our dedicated student trip leaders.
Rock Climbing and Mountaineering
The Outdoor Pursuits Program offers rock climbing and mountaineering trips.  These include everything from sport climbing at local crags, longer multi-pitch routes at Smith Rocks and summit attempts on many peaks around the Pacific Northwest.  While the physical difficulty of trips vary depending on objective and location, there are always trips designed for the beginner.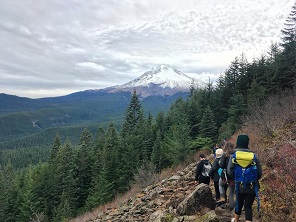 Backpacking and Hiking
The Outdoor Pursuits Program offers a wide variety of backpacking and hiking trips.  These trips range from beginner friendly day hikes meant to expose participants to the outdoors to longer multi day backpacks.  Each backpacking and hiking trip has an assigned curriculum to it, taught by our student staff, meant to educate participants.  This curricula provides students the freedom to pursue their own personal adventures and provides the confidence to do so.
Kayaking and Rafting
The Outdoor Pursuits Program offers canoeing, kayaking and rafting trips.  These trips vary from kayaking on calm flat water to rafting class 3 and 4 rapids.  All of our water based trips use local outfitters for providing the watercraft or professional instruction.  Whether you are new to water sports or a seasoned veteran there is something here for everyone!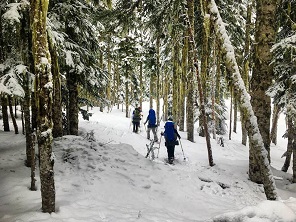 Skiing and Snowshoeing
The Outdoor Pursuits Program offers a variety of skiing and snowshoeing trips.  These range from snowshoeing to scenic overlooks, cross country skiing through the wilderness and skiing at local resorts around Mt. Hood.  These trips offer a unique opportunity to get out and experience the outdoors in a very different context.  Learn about our 
ski bus program
.